Vietnamese Prime Minister Nguyen Xuan Phuc leading a Government delegation yesterday worked with leaders of Can Tho city, discussing economic- social situation, urban building and investment attraction.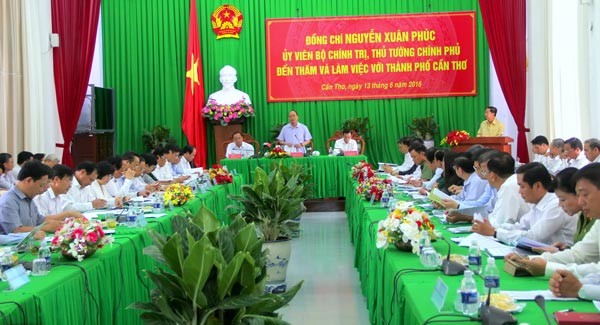 Vietnamese PM Nguyen Xuan Phuc works with leaders of Can Tho city. (Photo:SGGP)
Chairman of People's Committee of Can Tho city Vo Thanh Thong reported that the city has developed strongly in both economy and society in the six first months of the year with the Gross Regional Domestic Product (GRDP) at VND 28, 755 billion, an increase of 6, 8 percent in comparison with the same period last year; value for industrial production at VND 44, 049 billion; retail value and service turnover of wholesale goods at over VND 43, 418 billion; export turnover of US$ 620 million; tourism turnover of VND 940 billion and total social investment capital of VND 20,143 billion.
In the six first months of 2016, the city has received 634 new businesses with their registered capital of VND 2,938 billion, creating 26,000 jobs for local laborers.
The People's Committee of Can Tho city also proposed the Prime Minister and the delegation to support its attempts in luring domestic and foreign investors, delete unsuitable projects, complete some necessary projects on traffic infrastructure and climate change, and invest into the local high- tech industrial parks.
Speaking at the meeting, PM Nguyen Xuan Phuc highly appreciated Can Tho city's great results and achievement in the fields of health, industry, economics and education in the previous years.
Can Tho city needs to strengthen further projects under public-private partnership, agricultural and industrial reconstruction, regional science and technology development with the aiming of training regional humanity resources and developing Can Tho city as the hub of the Mekong Delta region