The Mekong Delta city of Can Tho has deployed its paddy rice production plan for 2014, targeting an output of 1.3 million tonnes.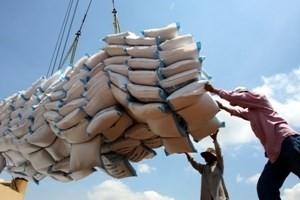 (Photo:VNA)
Local authorities decided to broaden VietGAP and Global GAP standard large-scale rice fields to 14,000-20,000 hectares in the year in a bid to increase the output of high-quality rice to help farmers earn higher incomes.
As a regional granary, Can Tho has set to gradually speed up the ecological rice farming process as well as renovate its processing technology to churn out rice products of high economic value.
In 2013, rice productivity in the locality averaged 5.77 tonnes per hectare on the total rice farming area of 236.538 hectares, giving a yield of over 1.36 million tonnes of paddy rice.
Can Tho has set a target of exporting 860,000 tonnes of rice in the year, up 40,000 tonnes from 2012.
As by October 14, the city shipped 755,000 tonnes of rice, earning 359.7 million USD, showing a year on year rise of 14 percent in volume and 22 percent in value.
Apart from main markets in Asia, Africa, Europe, Oceania and the US, there are many new customers registered to buy rice from Can Tho.