Car importers who discovered in advance that the import tariff on new cars would go up by 20 percent in April are making a killing now after stocking up ahead of the tax hike.
They have begun to price their cars at cost plus the new rate of 83 percent though they themselves had only paid 63 percent import tax.
The importers admit that since the beginning of this year they were trying to uncover news of any tariff hikes.
The government finally decided that with effect from April 21 the tax would go up.
Tran Van Thang of Ho Chi Minh's District 10 says when he went to a car dealership in An Duong Vuong Street, District 5, to buy a Toyota Camry, the salespeople brushed him off. When he persisted, they offered delivery if he paid of US$9,000 extra.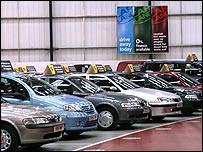 In a second-hand car showroom
Nguyen Thi Huyen of District 7 faced the same problem. With her company opening a new branch, more vehicles were needed, and she visited some car dealers in Districts 1 and 10. The prices were high everywhere.
She says resentfully: "When I chose a Mercedes, they told me to pay an extra $11,000 to get the car immediately. For this price, I would rather buy a locally-assembled car."
Figures from the customs department show that car imports halved to 3,000 in April.
It is not clear if domestic auto manufacturers too will increase prices but none of them has said anything so far. The import tax on car parts has been hiked by 3 to 5 percent. So, even if they do increase prices, it won't be by $10,000.