Despite huge offers of discounts and added promotions, purchasing power remains very weak in the country, with many people deciding against buying a car in these hard times, what with additional ownership registration taxes and other taxes imposed on car owners.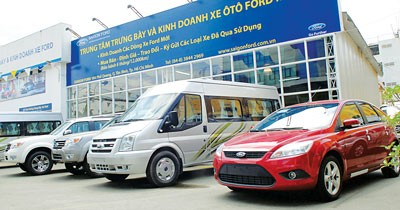 Car sales drop despite promotions
Four years ago, car showrooms worth tens of billions of dong mushroomed in Ho Chi Minh City, such as Tran Hung Dao in District 1, An Duong Vuong in District 5, Phan Van Tri in Go Vap District and Cong Hoa in Tan Binh District. Customers flocked these car showrooms regularly.
This golden phase gradually ended in recent years. Showrooms closed down and are now struggling to remain operational.
Phan Thanh Hoa, owner of Phan Hoa showroom in Tran Hung Dao Street in District 1 said in 2007 his family had five showrooms with more than 100 staff  and earned more than VND50 million per month from each store.
However, now because of the economic downturn and various taxes imposed on potential customers, he had to close down four stores and kept only one which is also his residence. Moreover, he said car sales have not increased even though he launched many promotions and offered discounts as well as support for bank loans.
To survive in these hard times, most enterprises reduced prices as much as possible to improve sales. For instance, price of Renault Koleos car made in 2011 slipped from VND1.429 billion (US$68,701) to VND1.25 billion ($60,096) while Renault Fluence from VND1.046 billion to VND830 million.
In addition to discount prices, the store also offered 20 percent discount on service fee, 15 percent on spare parts and free petrol for maintenance.
Due to poor sales performance over the last two months, Toyota Motor Vietnam (TMV), the leading auto firm in the local market, has come up with a special program for clients of Fortuner vehicles by offering buyers of Fortuner V, G and TRD Sportivo free insurance for their cars.
Vietnamese carmaker Truong Hai offers besides discounts, gifts for customers. For instance, any customer buying Kia Morning, Kia Forte, Kia Carens and Kia Sorento will receive equipment and accessories for decoration worth VND27-100 million.
Western Ford in Binh Tan District offers discount prices of all kinds for new launches in 2012. However, Ngo Thanh Tri, head of Sales Department, complained that despite impressive discounts, a year-on-year decrease of 40 percent of customers has been reported.
Toyota Vietnam, Ford Vietnam, Isuzu Vietnam, Mercedes-Benz Vietnam, Honda Vietnam, Samco, Vinamotor and Hino all reported a downtrend.
To solve the problem, VAMA petitioned the government to be transparent in fees for customers especially fee to limit the use of personal vehicles, in an effort to ease congestion and improve traffic order and safety.  Moreover, customers should pay 5 percent of registration fees for cars and 2 percent for trucks.
Total car sales in 2011 reached 170,000 units while only 48,910 cars sold so far this year, a decrease of 32 percent over the same period last year, according to Vietnam Automobile Manufacturers' Association (VAMA) .

VAMA also forecast car sales this year at only 80,000 units, dropping sharply against the sale of more than 110,000 units in 2011. Low sale of cars are sending enterprises on the verge of absolute bankruptcy and the government has lost valuable foreign exchange currency.  Slow auto sales have led to a sharp fall in tax collection to the state budget of VND6 trillion in the first four months of the year.