Price of building materials including steel and cement are showing signs of declining after surging constantly early this year, leaving many businesses struggling with the increasing inventory.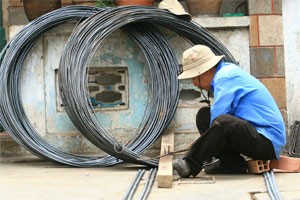 Steel makers are under high pressure of the increasing input costs and harsh competition from imported steel, while cement producers are coping with rising inventory due to slow sales (Photo:Minh Tri)
Local construction firms were very anxious on the increasing steel price in the last three months, moving up by about VND400,000 per ton and even VND800,000 to VND19 million (US$950) per ton.
However, the rising streak has been cooled off, with local retail price VND200,000-300,000 per ton lower than the wholesale ones by steel makers.
D6 and D8 steel of the country's two leading steel producer Vinausteel and Hoa Phat remain at high price of VND1.8 million ($90) per ton.
Analysts said the move came from the fact that construction firms and dealers dumped huge volumes of steel they had stockpiled earlier to cut losses.
The owner of Hanoi-based steel trader Song Nhi, who wanted to be unnamed, told Dau Tu Tai Chinh Newspaper that steel price would not drop further and rally soon on the increasing ingot steel, electricity cost and a stronger US dollar.
Experts said local steel makers were facing in a dilemma of choosing between raising their prices and keeping their prices unchanged.
The first option will pave a way for imported steel to beat them with lower prices, while the latter will leave them grappling to survive from the increasing input costs.
The Vietnam Steel Association has requested authorities to tighten control over imports from China and Southeast Asian countries as the market share of local products has dropped sharply.
News website VnExpress early this month cited Nguyen Tien Nghi, vice chairman of the association, as saying that steel imports amounted to around 350,000 tons per month in January and February, hurting local producers.
He noted that Vietnamese steel products now only account for 14 percent of the market, compared to an average 30 percent in previous months.
As a result, the association said customs, tax and trade officials should take immediate measures to control imports. It said the right import tax rates must be applied for particular imported products.
For instance, steel products of ASEAN (Association of Southeast Asian Nations), which are eligible for a zero tax rate, must actually be produced by, instead of just coming from an ASEAN country.
The association also said steel imports from China, even with boron, must carry a 10 percent tax if they are used for construction projects.
Local producers in 2009 discovered a case in which an importer claimed 29,000 tons of steel imported from China to be alloy steel to benefit from lower tax rates, even though the products were simply carbon steel with a small quantity of boron added. Generally, boron is added to steel products to increase strength.
According to the Vietnam Steel Association, local steel output has reached double the local demand. It expects total production to reach 8.8 million tons this year, up from 7.8 million tons in 2010.
Cement sales frozen
Cement is treading water, with retail price in the north ranging from VND1.1 million per ton to VND1.4 million ($70) per ton. The price in the southern provinces is higher, ranging from VND1.44 million per ton to VND1.48 million per ton.
Dealers expected the market price would likely to be unchanged in the next five or seven days before fluctuating.
Nguyen Van Diep from the Vietnam Cement Association said the cement sales in the first two months of 2011 amounted to 6.2 million tons only, compared to last year's 7 million tons.
"The sales should have reached around 8 million tons in the first two months in accordance with the expected consumption growth rate of 10 percent and the targeted sales of 56 million tons," said a cement trader.
"Low sales show cement producer will have to face with the increasing inventory," he said.