The Government's loosening of monetary policies and interest rate subsidy program have proved effective, as they have helped the country climb out of recession.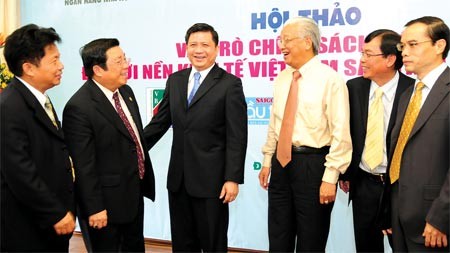 Central Bank's Governor Nguyen Van Giau (3rd, L) with delegates of the seminar on monetary policies and Sai Gon Giai Phong editor-in-Chief Tran The Tuyen (1st, L)
Economic experts made the comment at a seminar on "the role of monetary policies in the Vietnamese economy in its post-recession period," which was jointly held by the State Bank of Vietnam (SBV), Lam Dong Province's People Committee and Party Committee and Sai Gon Giai Phong in Da Lat City on August 28.
The loosening of monetary policies has created conditions for commercial banks to maintain reasonable interest rates and mobilize funds from various sources, making credit growth rate increase by 22.61 percent in the first seven months and helping to prevent recession, economists said.
According to the Vietnam Chamber of Commerce and Industry, the interest rate subsidy scheme has hit its target, as it has helped businesses and producers reduce credit costs by 30-40 percent, expand business and create jobs.
It has helped 91 percent of small and medium-sized businesses maintain and develop their business and production, the chamber said.
However, SBV Governor Nguyen Van Giau said the scheme has had a disadvantageous impact on controlling inflation and stabilizing interest and exchange rates.
He said when the economy climbs out of the recession, new measures need to be formed.
Dr. Dinh Trong Thinh, from the Academy of Finance, said to help businesses not feel the "shock," there should be another stimulus package to continue subsidized interest rates when the current subsidy scheme winds up after December 31.
Dr. Tran Cong Hoang Quoc Trang, chairman of Hoa Viet Co., said the subsidy scheme should be soon lifted, as the interest rate gap will create unhealthy competition among businesses and a habit of relying on Government policy while trying to build a market economy.
Mr Giau said the Government had openly announced that interest rate subsidies would be implemented this year, so businesses should not be shocked when it is repealed.
However, the current subsidy rate of four percent is rather high, so there should be further measures to gradually reduce the rate, he added.
The Government is continuing to keep watch on the situation in order to create measures for the post-recession period, Mr. Giau said.
He added that the Government cannot continue to subsidize businesses after the economy recovers. As such, businesses need to find ways to enhance their competitiveness.
Related articles:
Post-economic crisis seminar is good initiative, says President
VN to mull new solutions for post-crisis economy