HA NOI (VNS)— The State Bank of Viet Nam intends to keep up gold auctions to correct imbalances in supply and demand in the domestic market, according to the Head of the Foreign Exchange Department, Nguyen Quang Huy.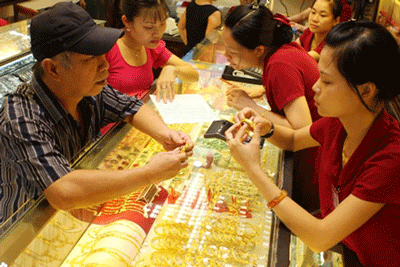 Customers buy gold at a Bao Tin Minh Chau shop in Ha Noi. Domestic gold prices yesterday were up around 0.16 per cent per tael over Monday. — VNA/VNS Photo Tran Viet
From March 28 to December 6 this year, SBV held 73 auctions in which it offered up 1.88 million taels (approx. 2.5m ounces). The auctions managed to inject 1.77 million taels into local credit institutions in a bid to combat speculative activity in the market, minimise gold imports and increase foreign reserves.
Gold auctioning is among a range of policy levers put into action more than a year ago to moderate the gold market. Huy said the policy has significantly improved the imbalance of supply and demand, stablised foreign exchange rates and secured the legal rights of gold holders.
Vietnamese citizens have a long tradition of privately storing gold reserves due to deep-seated problems causing high inflation and depreciations in the dong.
In a bid to wean people off gold holdings and to shore up the dwindling dong, the State Bank of Viet Nam shut down gold services in which banks paid interest rates for gold deposits.
Gold holders now have to pay for their storage at banks, with the policy designed to encourage people to covert bullion gold into dong.
Under Government Decree No 24/2012/ND-CP dated April, 2012 on gold-related activities, the State Bank of Viet Nam is responsible for purchasing and selling gold in the domestic market. Gold imported and exported by the central bank are exempt from taxes.
Global price movements
Following the rise of world gold prices, domestic gold prices yesterday were up around 0.16 per cent per tael against Monday. One tael is equivalent to 1.2 ounces.
Buying and selling prices of SJC gold bars listed by DOJI at 5pm yesterday were VND35.44/VND35.49 million per tael ($1,675/1,678), up around VND100,000 ($4.7) from VND35.35/VND35.43 million ($1,671/1,675) on Monday.
World gold increased yesterday, supported by a short-covering rally. Spot gold had risen 0.7 per cent to $1,245.90 an ounce.
According to Reuters, gold has lost over a quarter of its value this year as fears that the Fed will scale back its $85 billion monthly bond purchases brought a 12-year bull market to an end.
One US dollar yesterday traded at VND21,070/ VND21,150.