Chinese, Hong Kong and Taiwanese investors have recently broadened investment in garment and textile industry in Vietnam ahead of Vietnam-EU Free Trade Agreement (FTA) and Trans-Pacific Partnership (TPP), which will be signed next year.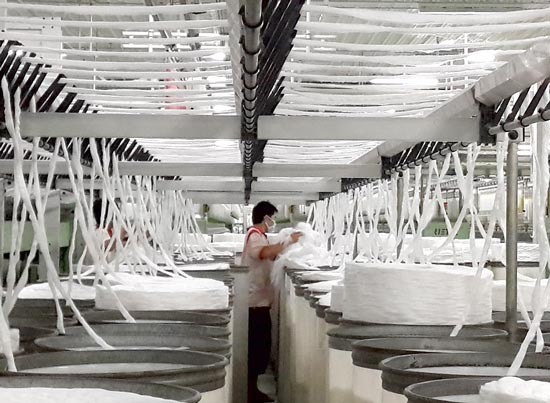 A fibre production line of Phong Phu Corporation (Photo: SGGP)
After building two fibre plants in Dong Nai which have put into operation since 2007, the Chinese Texhong Group has recently functioned the first phase of another US$300 million plant in Mong Cai City, Quang Ninh Province.
The Hong Kong based TAL Group has built a US$40 million garment plant in Thai Binh Province. They are now working with Hai Duong Province authorities on a 40 hectare fabric weaving and garment project.
When the FTA and TPP are signed, Vietnamese garment and textile products will enjoy zero percent tax rate in the US and EU. The average tax rates are 17.5 percent and 9.6 percent in these two markets respectively.
One of the US' conditions for the zero percent tax rate is that fibre must be produced in Vietnam or other TPP countries. Most countries with TPP have not developed the fibre industry yet, forcing Vietnam to produce domestically.
According to the Ministry of Industry and Trade, the two agreements will be signed in 2015.
Besides, the Texhong Group said that their plant in Quang Ninh will provide materials for markets in the southern region of China.