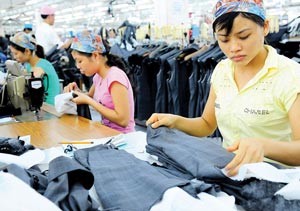 Textile and garments are among Vietnam's major export earners. The country saw an export growth of 10.7% year on year in December (Photo: SGGP)
Vietnam's economic growth of 5.32% in 2009 is a "far more resilient" performance than the rest of Asia, with the exception of China, Citigroup said.
A Citigroup report dated Jan. 4 by the bank's chief Asia economist Johanna Chua based in Hong Kong said the higher-than-expected full year growth was bolstered by 6.04% in the third quarter and 6.9% in the fourth.
However, the strong Q4 growth and rising inflation warrant more tightening, according to the report.
On Dec. 30, 2009, Vietnam's General Statistics Office announced that the country saw a growth rate of 3.14% in the first quarter, 4.46% in the second, 6.04% in the third and 6.9% in the final.
Analyzing growth by sector, Chua wrote that the construction sector posted the sharpest rebound in 2009 while manufacturing showed the sharpest slowdown. Services continue to be the largest contributor to GDP growth, accounting for about 2.7 percentage points (+6.6% year on year), but the biggest annual rebound in growth in 2009 vs. the previous year was the construction sector, which expanded by 11.4% in 2009, from almost zero growth in 2008.
She wrote that the industry sector saw the sharpest slowdown, growing 4% in 2009 or about half the growth rate in 2008, on the back of a global manufacturing slump.
However, exports are rebounding gradually, up 10.7% year on year in December helped by the base effect as well as recovery in electronics, textile and garments, Chua wrote.
Related article
Vietnam economy expands 5.32 per cent in 2009