The success of Viet Nam's industrial development strategy depends on accurate identification of opportunities and challenges, Deputy Prime Minister Hoang Trung Hai said on Saturday.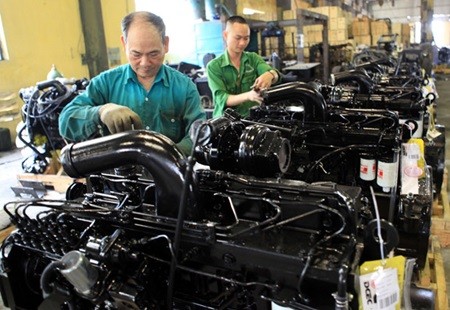 Workers on a truck assembly line in Hai Duong Province's Binh Giang District. Accurately identifying oppotunities and challenges is crucial for Viet Nam to meet its industrialisation target, Deputy PM Hoang Trung Hai has said. (Photo: VNA/VNS)
Addressing a conference seeking ways to effectively promote industrial development in the country, he highlighted several impressive achievements to date.
He said the sector had maintained a two-digit growth rate for several years and effected positive structural changes, including a higher proportion of manufacturing and processing in industrial value and larger roles played by non-State firms including foreign investors.
The sector had developed the capacity to supply essential products for other production sectors as well as for consumption, making the economy more self-sufficient, the Deputy PM said.
He also spoke of persisting weaknesses, particularly low value additions to many products, an underdeveloped supporting industry, low quality planning and the lack of a national vision.
Productivity and labour skills were low compared to many regional countries, the Deputy PM said, noting that only a small proportion of workers had good technical skills, the majority being recipients of short-term training.
Furthermore, technologies used in the country were mostly outdated, even compared to countries in the Southeast Asian region.
These factors constituted major obstacles to realising the goal of becoming an industrialised economy by 2020, Mr. Hai said.
Strategic incentives
Outlining possible solutions, the Deputy PM said policy incentives were needed for development of both small and medium-sized enterprises (SMEs) and the supporting industry.
He stressed the need for quality training for both managerial and technical staff alongside improving infrastructure facilities in order to attract foreign investment.
Better protection of intellectual property would boost creativity as well as application of scientific and technological advances in the industrial sector, Hai said.
Multiple visions
Finance Minister Vuong Dinh Hue, who also heads the Party Central Committee's Economic Commission, said a development roadmap based on medium and long-term visions would effectively promote the sector's growth.
He suggested that special incentives are devised for industries of fundamental and strategic significance. He felt that this would not only enable rapid, sustainable economic growth and greater self-sufficiency, but also enhance the national economy's role in the global production and distribution network.
Echoing Mr. Hue's opinion about focusing on key sectors, World Bank Country Director for Viet Nam Victoria Kwakwa called for a stronger shift to productivity-based growth.
She urged the Government to further promote the private sector, saying that without a strong and dynamic private sector, the industrialisation process would be slow.
The Ha Noi conference, which sought to devise suitable policies for the success of the National Strategy for Industrial Development through 2020, attracted the participation of many senior officials and international experts.