Viet Nam's coffee exports are predicted to reach US$950 million in 2006; an annual increase of more than five percent.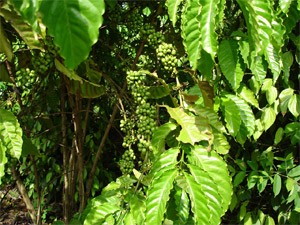 Viet Nam's coffee price increases (Photo:U,Phuong)
After a slight slump in mid-October, coffee exports have risen nearly US$40 a ton since early November, said an official of the VTIC (Viet Nam Trade Information Center) under the Ministry of Trade.
Currently, 5% broken and black coffee, grade II, is offered at US$1,425 to $1,430 per ton.
Viet Nam's coffee price is thus equal to that of the world.
But, it remains US$20 lower per ton at London's market whereas it has found stability in the domestic market.
This is the golden age of coffee with its price increasing annually as 46.8 per cent (about US$370 a ton).