Vietnam looks to export over 1.5 million tonnes of coffee for nearly 3 billion USD in the 2013-2014 crop, a year-on-year increase of 20 percent.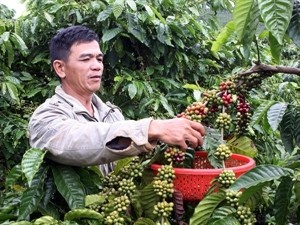 (Photo:VNA)
This was said by Deputy Chairman of the Vietnam Coffee and Cacao Association (Vicofa) Do Ha Nam on the fringe of a congress held in Ho Chi Minh City on April 11.
The country has raked in 1 billion USD from exporting around 700 tonnes of coffee since last October. The price is between 2,000 and 2,200 USD per tonne, which is forecast to become higher in the next crop due to a lower output as a result of a drought in some coffee-growing areas in the world, Nam said.
Vietnam is striving to increase the output as the global demand for this product remains very high, Nam added.
Coffee is one of Vietnam's major hard currency earners, with the Central Highlands as the largest growing area.
Last year, the country exported 1.32 million tonnes of coffee, earning 2.75 billion USD.