The "collective" or "cooperative" economic sector remains weak, its growth is slow and unstable even five years after implementing the Central Resolution No. 5 on reforming, developing and enhancing the collective economy, Truong Tan Sang, politburo member and standing member of the Party Central Secretariat, summed up at a review in Ha Noi yesterday.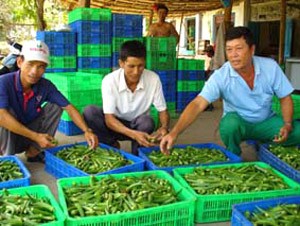 Okra fruits grown by Thanh Loi Safe Vegetable Cooperative
He made it clear that cooperatives' scale remains small. Though the number of new cooperatives has increased, they've not improved significantly in terms of quality. The collective economy's growth remains only half of the nation's, he added.

Mr. Sang pointed out some of the sector's shortcomings: insufficient executive awareness and understanding of the collective economy model and its role in the country's socio-economic development.

Cooperatives have also not tried hard enough to grow, he added, they've depended too much on Government favors.

The sector's production technology remains backward and managers' abilities limited, Mr. Sang carried on, noting some 28 percent of agricultural-cooperative managers only have a primary school degree, 37 percent only a high-school degree.

The Secretariat will give instructions to boost the Resolution's implementation to help the collective economy overcome its weaknesses and develop more rapidly to 2010, Mr. Sang concluded.