When the Government agreed to increase the electricity price by 8.8%, local production was predicted to face certain difficulties. However, many enterprises so far reported they were ready for the price adjustment.
Power price rises…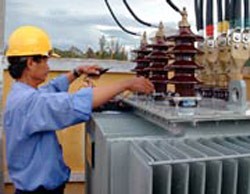 A technician checks ectricity transmission lines and transformer stations. (Photo:TK)
The Vietnamese Government recently discussed and approved the proposal of the Ministry of Industry on raising electricity prices from VND783/kWh to VND852/kWh. However, it remains unclear whether the new prices will go into effect on December 1, 2006 or January 1, 2007.
According to Deputy Chairman of the Government's Office Nguyen Xuan Phuc, the details of the plan on the electricity price increase would be made public after the Government's regular November meeting, which is scheduled for December 1, 2006.
There will be no further electricity price increase in 2007 and the prices will be re-adjusted in 2008, and the average electricity price will increase by another 4.5% to VND890/KWH. After 2010, electricity prices will be determined by supply and demand.
…but do not worry local production activities yet
In spite of a possible power price rise at year-end, the time when analysts often consider the "rush hour" for production and consumption, local enterprises reported that they were ready to cope with the news.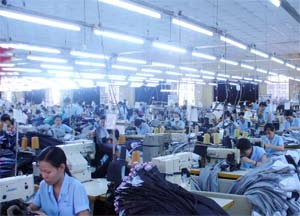 Lamps are used without strict control at the Saigon Garment Company No.3 .(Photo:TK)
General Director of the Thien Nam Trading Import Export Corporation Tran Dang Chuc said some enterprises have prepared for the rise since last year and his company, which is working in the textile and garment industry, decided to invest in buying modern machines and technologies which help save energy and improve productivity.
Another local manufacturer, the Dien Quang Lamp Joint Stock Company, discovered an enterprise resource planning (ERP) solution that suits its needs. The corporate ERP Oracle system is a business necessity that would understand the company's operations and have the right to make decisions, aiming at standardizing the production , management processes and financial reporting procedures.
Some other enterprises, like the Nha Be Garment Joint Stock Company, chose to restructure their production line, better controlling the electricity use and taking full advantage of sunlight instead of using lamp.
Mr. Vu Sy Nam, General Director of the company, said he also encouraged workers to practice thrift in electricity use, which resulted in the company's remarkable reduction of power expenses over the past few months.