Despite efforts to improve the transaction procedures and increase the ranges of goods, commodity exchanges still has low liquidity and incomplete legal frames.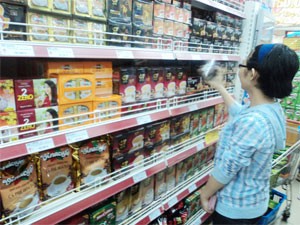 A girl picks coffee instant boxes at a HCMC-based supermarket. Investors remained cautious on commodity exchanges, which have low liquidity (Photo:Minh Tri)
The Buon Ma Thuot Coffee Exchange Center announced it shifted from physical contracts to future transactions, which will help investors reduce risks of the fluctuation in dollar-dong exchange rate.
However, trading at the exchange in the highland city remains very quiet, with just tens of small-volume orders by traders who were simply curious about the exchange.
Experts said investors have been still cautious on commodity exchanges since they did not acknowledge the legitimacy of the future transactions. Many traders mistook that the future transactions and physical contracts were all the same.
"Despite debuts of many commodity exchanges, big traders are still standing on the sideline as they recognized those exchanges had low liquidity and their transactions carried high risk of losses," investor Nguyen Hoang Minh told Dau Tu Tai Chinh Newspaper.
"With future transactions, investors have advantages of time and payment, but they cannot sell their contracts that are getting profitable or dump them when they incur losses," said Minh.
Analysts say an incomplete legal framework could pose risks for investors.
The Vietnam Commodity Exchange made its debut in Ho Chi Minh City on January 11, offering investment options in coffee, rubber and steel futures for businesses and individuals.
Investors will also be provided with more opportunities at the Buon Ma Thuot Coffee Exchange Center, which became operational in late 2008, and is slated to perform transactions for futures contracts in March, said the center's director Nguyen Tuan Ha.
Currently, the center only handles spot trading.
Nguyen Van Nam, former head of the Trade Research Institute of the Ministry of Industry and Trade, said futures transactions will help farmers estimate demand and prices for the next harvest and avoid an oversupply situation that will lower prices.
Such transactions will also help processors and traders make better business plans, Nam said.
"However, in the context that regulations on operations of commodity exchanges are still loose, the possibility of disputes and weak liquidity is still high," he said.
Phan Huy Chi, chairman of SME Securities, a brokerage firm that is one of the Vietnam Commodity Exchange's founding shareholders, expressed similar concerns.
"This investment option is very new in Vietnam and it will take time for us to introduce it to the broad investor community," the Financial Times quoted Chi as saying on January 12. "The legal framework has not been completed and is in the process of further development, which could cause some difficulties during the operations."
A businessman, who often trades coffee futures on overseas exchanges and wished to go unnamed, said with immature management, the local commodity exchanges might be manipulated by speculators.