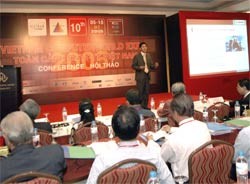 A recent conference held by the Viet Nam Chamber of Commerce and Industry.
According to the Viet Nam Chamber of Commerce and Industry (VCCI), the chamber will cooperate with the Ministry of Foreign Affairs, the Ministry of Planning and Investment, and some other agencies to organize a conference on trading promotion in the Chinese market.
Also, the Viet Nam-China e-commerce portal will be introduced to enterprises by the VCCI's Institute of Technology for Business at the conference.
Besides, the VCCI's Hai Phong Branch and the General Consulate of Indonesia will jointly hold another conference on trading in the Indonesian market on March 31 said the chamber.
The program of the coming trade, tourism fairs and investment opportunities as well as the findings of a market survey of this market in 2006 will be presented by the organization committee in this conference.