Bulldozers began clearing the 114-ha site for the construction of the US$ 575 million Dak Nong aluminum smelting plant in this Central Highland province on September 4.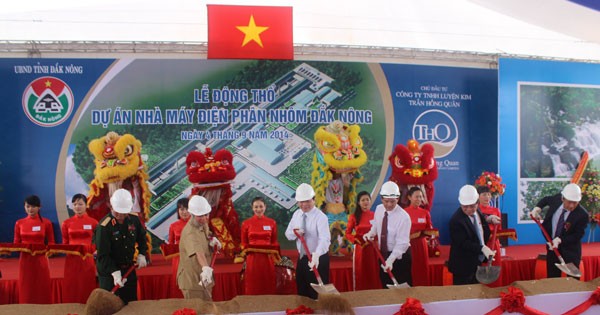 The inauguration ceremony (Photo: SGGP)
At the inaugural ceremony for the project, Trade and Industry Minister Vu Huy Hoang said the plant will be the first of its kind in Viet Nam to produce aluminum bars and play an important role in the sustainable socio-economic development of the Central Highlands.
Hoang added that the plant, with a capacity of 450,000 tons, will also play an important role in the comprehensive development of domestic bauxite exploitation and aluminum production projects.
Tran Hong Quan Trading Ltd Company is investing in the construction and development of the plant at Nhan Co Industrial Park in Dak R'Lap district, Dak Nong province and is expected to be completed in two years.
The Nhan Co alumina project, which the Vietnam National Coal and Mineral Industries Holding Corporation will put into operation, will be supplying all materials for the plant.
The project is divided into three phases. In the first phase, the plant is expected to achieve 150,000-tonne annual production capacity by 2016. In the second phase, the plant is expected to have a 300,000-tonne annual capacity by 2017. In the last phase, it is expected to have a 450,000-tonne annual capacity by early 2019.
Figures show that Vietnam has the world's largest bauxite reserves, and Dak Nong alone has more than five billion tones. The Ministry of Natural Resources and Environment is still in the process of exploration, with high hopes of finding around 11 billion tones in reserves.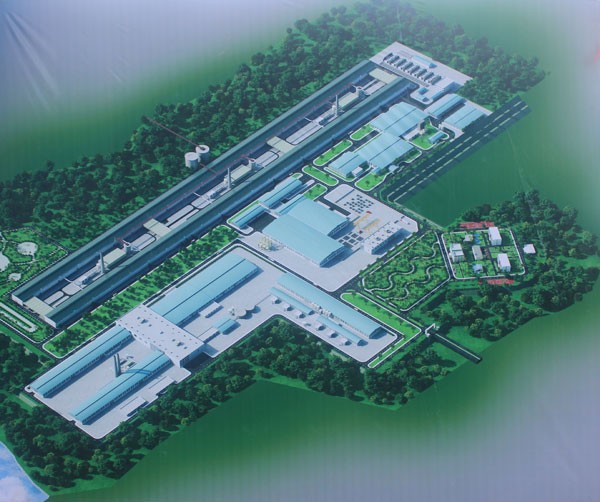 An artist impression of the Dak Nong aluminum plant (Photo: SGGP)
Le Dien, Chairman of the provincial People's Committee, said this was the first aluminum project in Vietnam with a domestic company as investor, and it was expected to play a key role in the socio-economic development of his province and the country as well.
Tran Hong Quan, the company director, said the Government has accepted the new aluminum electrolytic technology to be used in the project, and this was expected to attract more investors in the country's aluminum industry.
Last May 30, the Prime Minister issued Decision 822-QD-TTg, on tax exemption policies covering the Dak Nong project. The policies include four-year total income tax exemption from the time the plant generates taxable income; 50-percent income tax exemption to take effect for nine years after the four-year total tax exemption period, and a 10 per cent tax rate to take effect for 30 years, after the nine-year 50-percent income tax exemption in 30 years.