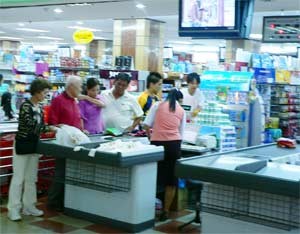 Locals and foreigners buy food and households at the Tax Commercial Center.(Photo:TK)
The country's consumer price index (CPI) in May showed an increase of 0.77% over last month and an increase of more than 7.3% over the same month last year, said the General Statistics Office.
The CPI of 10 major product categories went up in May with the food and food service group recording the highest increase of 1.04 percent. The hike has been blamed on adverse weather conditions and poultry and cattle epidemics.
Housing and construction materials saw a jump of 0.87 percent as construction projects were on the upswing.
The prices of textiles and apparels, entertainment, transport and other services also rose due to increases in world prices and consumer demand on holidays.
Related link: