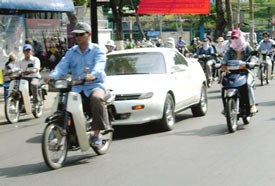 Means of transport cost increased of 2.9% in May. (Photo: T.C)
According to the General Statistics Bureau of Viet Nam, the consumer price index (CPI) in May, 2006 rose by 0.6% compared with that of the previous month and 7.5% compared to the same period last year.
The first of this year, all of ten groups of goods listed increased by 0.2% to 2.9%.
The biggest increase of 2.9% was in transport cost due to the steep rise of domestic gasoline price. A rise of 1% was seen in prices of other consumer goods and services group.
Meanwhile, prices of cultural, sporting, entertainment services, housing and building materials upped 0.9%. Other groups such as foods and foodstuff, education, pharmaceuticals, garment and footwear, drinks and cigarettes, household devices and home appliances increased by 0,2% to 0.5%.
The gold price index in May increased remarkably by 17.6% over last month and 57.7% over May 2005. Meanwhile the US$ price index started to up 0.8% over previous months and 1.4% over May 2005.
Related Articles:
CPI to Increase by 0.3% – 0.5% in May