According to a Resolution passed by the Prime Minister, one of the measures to deal with housing inventory is to permit investors to transfer commercial projects into social housing, a plan aimed to reduce unsold inventory considerably.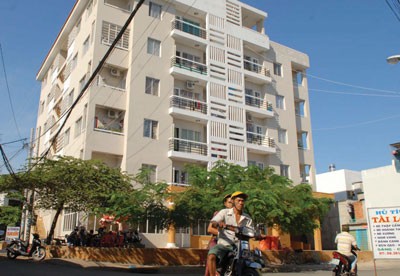 An apartment block for teachers and civil servants in Ba Hom Street in District 6, HCMC (Photo: SGGP)
The Resolution allows investors to transfer apartments of less than 70 square meters of price below VND15 million per square meter into social housing.
In December last year, the Ho Chi Minh City People's Committee had reported to the Prime Minister that the City had 14,490 apartments as unsold inventory.
Investors of 28 projects, which are complete but unsold, have said that HCMC has 1,356 apartments still in stock. Of these, only six percent are less than 60 square meters, 56 percent are 60-90 square meters and 39 percent are more than 90 square meters.
The City People's Committee said that most unsold houses have large areas which are unsuitable for many residents.
Reason for the high number of large-area apartments is due to construction standards for high-rise buildings which the Ministry of Construction issued in 2004.
Apartments are divided into small, medium and large areas. The ratio among these three types is 1:2:1, meaning the small scale ones account for only one third.
The area of small scale apartments is said to be 50-70 square meters, medium size 75-90 square meters and large scale of 95-120 square meters.
Nguyen Van Duc, deputy director of Dat Lanh Real Estate Company, said that most unsold houses are of medium and large scale. If the Government just permits changing apartments of less than 70 square meters into social projects, it will still not help deal with high inventory.
In a draft circular issued by the State Bank of Vietnam, low income groups, including civil servants and those working in the military and police forces, can avail loans for a ten year period at only six percent interest rate for the first three years--a scheme that is valid till April 15, 2016.
According to the above circular, a 60 square meter apartment will cost VND720 million if the price is VND12 million per square meter.
Customers will pay 30 percent in advance and the remaining amount will be VND500 million. If payment is made in three years, they will have to pay more than VND15 million, including six percent interest rate a month. This money is not less for low income groups.
The circular also said that after the first three years, customers will continue to enjoy another preferential interest rate offered by the State Bank. However what this rate will be is still unknown.
The HCMC Real Estate Association says that the State Bank does not specify the interest rate after April 15, 2016--causing doubt in customers.