Vietnam has nearly 18,837 cooperatives with 7.37 million members posting a total turnover of VND26,400 billion (US$1,174 million) last year, up 9.32 percent over 2013.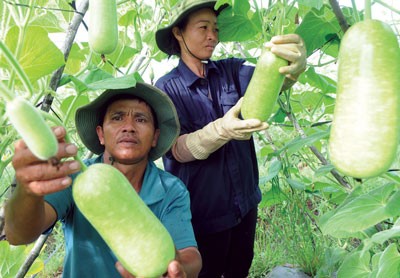 Famers harvest winter melons at Nga Ba Giong Cooperative, Hoc Mon, HCMC (Photo: SGGP)
According to reports by the Central Economic Commission, the collective economic sector has continued developing and operating effectively under various forms including cooperatives, and cooperative groups totaling 143,000 with 1.51 million members now.
Cooperatives contributed 5.05 percent Gross Domestic Product in 2013, 0.5 percent higher than 2012.
Their investment capital ratio has accounted for only 0.6 percent of the economy's total number and chartered capital averages VND1.35 billion.
Monthly, the cooperatives yield VND2.98 billion in revenue and VND261 million in profit , bringing each member VND1.7 million.