The Vietnam Cooperative Alliance (VCA) reported that the country has nearly 20,000 cooperatives, about 150,000 production groups and 43 cooperative unions with nearly 14 million household members from many fields such as agriculture, seafood, handicraft, cargo and passenger transport.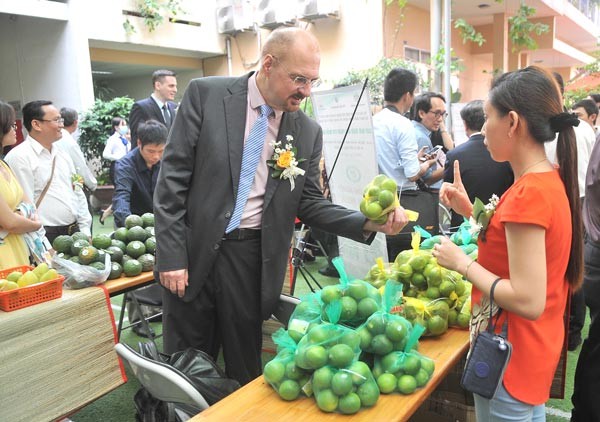 Visitors at agricultural trade fair in HCMC (Photo: SGGP)
About 55.8 percent of them have well performed. The rate is only 10 percent out of 50 percent of agricultural cooperatives, the rest ones have moderately operated or closed down.
 
Vietnam's agricultural industry has seen four long problems including pumper crop-price plunge, capital shortage, farmers' income lower than those working in industry and service fields and consumption on the defensive.
 
Chairman of the Vietnam Fatherland Front Central Committee Nguyen Thien Nhan said that the issues have been caused by inappropriateness between production relations and farming organization in conditions of market economy and international integration.
 
This has led to production at market mechanism but lack of market information, farmers' capital access difficulties and income hike unsuitable with productivity increase.
 
In addition, businesses have been unable to link with each private household although connectivity is a trend, the market requires certificated and clear origin products but quality management agencies can not directly supervise millions of separate farm households, farmers need to apply science and technology advances in production but authorized organs can not directly guide each household to do so.
 
Many polices have been implemented and the Cooperative Law has been modified many times to develop cooperative economy without results as expected.
 
The annual raise in cooperative number neither voices nor solves any issue when the number of those operating effectively has been low. The society does need the strong of cooperatives to help farmers not to be divided from the market, link production in accordance with the market's demand and organize stable consumption of their products.
 
When agricultural restructuring has been urgent amid deeper international integration, the cooperative economic sector plays a more important role in farming production. Therefore, the problem is to find out measures to better their efficiency, which should be made clear to have assistance and development policies and a road map to build new style cooperatives, Mr. Nhan said.
 
He urged cooperative unions to coordinate with localities to build at least one new style cooperative in each district across the country by the end of this year.
 
The Vietnam Cooperative Alliance should work with ministries and local authorities to solve difficulties in capital, land for construction of headquarters and storages and human resource training to develop the new cooperative model.
 
According to Minister of Agriculture and Rural Development Cao Duc Phat, the fact improves that those cooperatives established from the objective reality will exist and develop stably while those established from administrative orders will soon get broken.
 
Agricultural cooperatives said that the Government should have better and more suitable polices on the cooperative economy focusing on connectivity chains in farming production.
 
It aims to facilitate operation of businesses and farmers via cooperatives. Chain connectivity will create breakthroughs in phases from production, processing to consumption, they added.
 
The Government should train a professional staff of managers and technical workers, which is one of the weakest points of agricultural cooperatives now, to meet requirements of the new style cooperatives.