The Viet Nam Association of Corporate Directors has petitioned Prime Minister Nguyen Tan Dung with some solutions to the problem of inflation.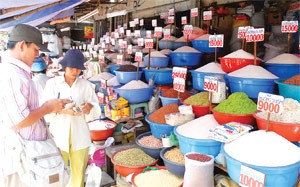 Inflation remains serious in the country although the government's eight solution groups have had effects.
The implementation of the government's eight solution groups has had effects, according to the association. However, inflation remains serious, the balance of trade is still in deficit and many enterprises are on the brink of bankruptcy.
 
"Inflation has certain positive aspects," said Dr. Han Manh Tien, chairman of the association. "It's a chance for us to carry out medium- and long-term solutions which in other conditions we can't figure out clearly and are not determined to implement."
 
In the petition, the association focuses on issues relating to company management so as not to repeat solutions proposed by state-owned companies and international organizations.
 
The government needs to gain the people's trust by promoting transparency in the implementation of policies. It must implement the principle of "power with personal responsibility."  Any agency or authority that makes mistaken decisions has to be punished strictly.
 
In addition, announcements by state-own agencies and authorities have to be controlled so as not to worry people.
 
The government should establish a system that can tackle inflation-related difficulties promptly.  Therefore, it's essential to set up mission units under key ministries and localities. These units will work with industry associations to investigate the situation and handle difficulties.
 
Commodities or industries that are facing difficulties should be reduced or exempted from taxes. In addition, the temporary collection of corporate income taxes should be halted or abolished for all enterprises.
 
Relevant ministries and agencies need to review all normative acts and instructions on tackling circumstances that arise before and after inflation.
 
The government should financially support poor people who are severely affected by inflation in order to stabilize society and stimulate demand.
 
In the medium- and long-term, there should be a detailed process and standards for the approval, supervision and assessment of development projects. 
 
The government needs to reconsider strategies and projects of sectors and localities to ensure their scientific soundness and feasibility.
 
Independent audits need to be carried out at state-owned economic groups to check their investment and business efficiency.
 
The management capacity of these firms needs to be checked to prepare a plan for training and improving the skills of managers.
 
The government needs to establish a national information-data system to provide essential information required in economic management, studies, and policy making.
 
The State Bank of Viet Nam needs to be reformed and granted independence from the government.
 
The government needs to consider restructuring the economy and changing developmental models to adjust polices in the context of the country's international economic integration.
 
Finally, a law on associations should be soon issued to encourage activities, improve the role of associations in socio-economic management, and create a foundation for the country's sustainable development.