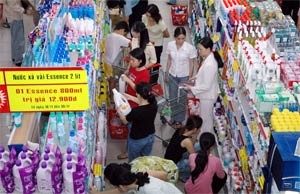 Shopping at the Coop Mart in HCMC's District 1.
Viet Nam's Consumer Price Index (CPI) this month increased by 0.5 percent, making a 6.6 percent increase this year.
Prices of commodities and services group rose between 0.7 and 0.8 percent.
Prices of the other groups went up lightly, ranging from 0.1 to 0.5 percent.
In addition, the price of gold this month sharply rose 3.2 percent, while the interest rate of VND against US dollar stood still.