The consumer price index (CPI) in August rose by 0.24 percent against July and 1.97 percent when compared to the same period last year, reported the General Statistics Office (GSO).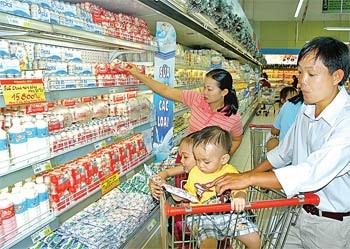 At a supermarket in Ho Chi Minh City. The country saw prices rise by 0.24 percent in August, with drinks seeing the lowest rise of 0.11 percent (Photo: SGGP)
The small rise in August kept the CPI for the first eight months to a one-digit growth or an 8.31 percent year-on-year rise.
Nine out of ten staple commodities experienced price increases with postal and transport services seeing the highest rise of 1.31 percent due to rising oil prices. They were followed by housing and construction materials at 0.93 percent and drinks and cigarettes registered the lowest rise of 0.11 percent.
Food services dropped for a second straight month by 0.08 percent, including food and foodstuff prices which fell by 0.42 percent and 0.09 percent, respectively.
The price of the US dollar has also registered an increase of 0.13 percent in August, a rise of 9.02 percent over the same previous last year.
Meanwhile gold prices picked up, increasing by 1.75 percent on last month and 9.44 percent against the same period last year.
The GSO forecasts that the CPI in September will continue to increase slightly by 0.3 or 0.4 percent due to holidays and festivals this month.
However, there should not be much of a change in the remaining months of the year. The growth in CPI will remain at one digit as previously predicted, according to the GSO.