Consumer Price Index (CPI) increased just 2.25 percent in the first three quarters this year, the least rate in the same period for the last 12 years, according to the General Statistics Office on September 24.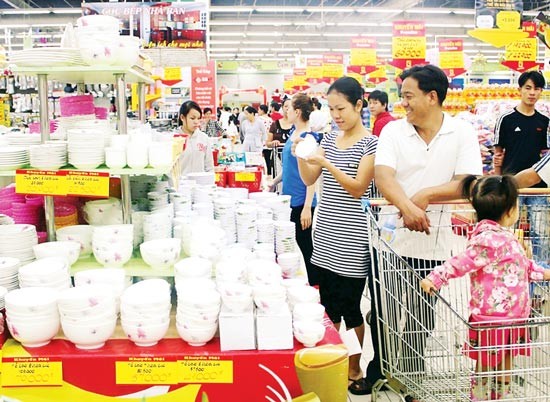 Consumers shopping at a supermarket in HCMC (Photo: SGGP)
In September, the index was up 0.4 percent over last month and 3.62 percent over the same period last year.
Education index rocketed 6.38 percent against last month due to tuition fee increase, which is said to be the main reason for the country's CPI hike.
Other necessary groups of commodities saw the index slightly up. Food and restaurant service added up 0.22 percent, accounting for one third of the last month index.
Housing, construction material, electricity, water, gas and traffic groups reduced because the prices of gas and petrol have been curtailed.
According to the General Statistics Office, export import turnover is estimated at US$216.8 billion in the first nine months this year. Exports reached US$109.6 and imports hit US$107.2, posting a trade surplus of US$2.5 billion.
Of these, FDI sector continued to yield a trade surplus of US$12.7 billion while domestic enterprises created a trade deficit of US$10.2 billion.