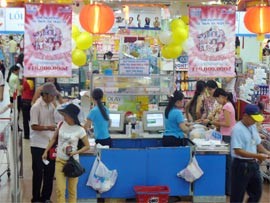 Poeple go shopping at CoopMart, HCMC. Will CPI increase in May affect the domestic consumption? (Photo:T.K)
CPI of May will rise by 0.3% - 0.5% above April, according to the prediction of the Ministry of Trade's Domestic Market Management Division.
As shown in the division's analysis, beside the current rise of crude oil and gold prices, the CPI growth rate is also caused by the possible price rise of materials, raw materials, fuel, and other goods in the global market, which will obviously put up the price of some local products.
Also, the CPI in transport and services groups will keep going up because the demand for tourism and relaxation of local consumer starts to rise.
Although sugar price is forecast to increase in this hot summer due to the unmet demand, sugar will be timely imported as well as domestically produced, aiming at stabilizing its price at the current level, said the division.
Related links: