Many dairy households have poured away milk or watered their cattle, some have sold cow herds and intended to return to rice farming because of unsalable conditions and heavy losses in Cu Chi district, Ho Chi Minh City.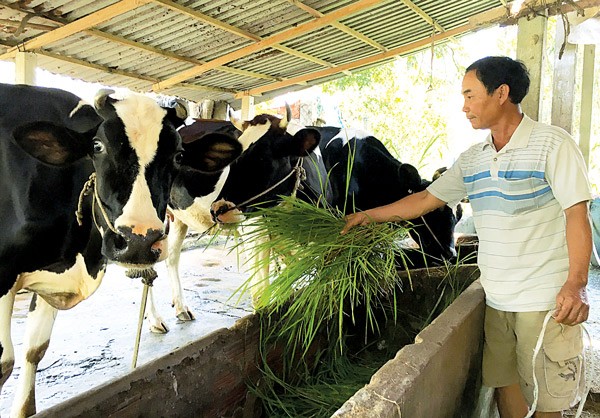 Farmer Nguyen Van Chai has been forced to sell his dairy herd because businesses have reduced prices and stopped purchase blaming high somatic cell count milk for the past year (Photo: SGGP)
A week after the HCMC Party Committee's Secretary Dinh La Thang instructed local authorities and businesses to help solve dairy cow breeders' consumption difficulties, Sai Gon Giai Phong reporters directly met with them to learn about their situation.
On February 24, another cow in the herd of breeder Nguyen Van Chai in Tan Thanh Dong commune was driven into a truck for sales.
The 20 cows herd has gradually been sold and remained only six because Mr. Chai intends to go out of the business now. He is only one of many households in Cu Chi who have sold their dairy herds.
Mr. Chai had been forced to sell the herd because businesses said that his farm's milk contained high somatic cell count (SCC) throughout the past year, he told.
Before that time, Vietnam Dairy Products Company (Vinamilk) had purchased with stable prices. The company started lowering prices blaming SCC milk and sent employees to guide farmers to practice farming method producing good milk quality.
Despite following the company's guides, the situation did not change so it ended purchase contract with him. He had to have local authorities interfere and the company resumed purchase later but subtracted prices due to the SCC contamination, he told.
Purchasing agents have poured all types of milk from high SCC and short of fat types to normal products into the same tank and transported to the company, who later will conclude the milk quality and decide prices, he says.
Before 2014, farmers had to sign contracts with companies before staring cow breeding. Afterwards, the dairy herds in the district went double and businesses started complaining about SCC contamination, lack of fat… and reducing prices.
Large companies would end contracts if the SCC milk occurred for three consecutive weeks. Small companies paid only VND7,500-8,000 a liter while the profitable level must be more than VND10,000, Mr. Chai said.
Breeder Nguyen Thanh Lam in the same commune tells that those breeding cows for over five years have sold their herds. Meantime, those doing the business for about two years have tried to contend as a cow was paid VND50 million (US$2,240) previously but fetches only VND20 million now.
Deputy chairwoman of theTan Thanh Dong commune People's Committee Duong Ngoc Loan said that dairy milk buyers in the commune include Vinamilk, Tan Viet Xuan, Dutch Lady and Tan Thong Hoi Dairy Cow Cooperative.
The committee has many times warned farmers against spontaneous cow breeding without consumption contracts, however high profit has triggered them to develop new herds. It has organized training courses on farming techniques for farmers to improve milk quality, she added.
Under instructions by Cu Chi district's leaders, the commune is listing the number of households in difficulties to seek solutions. Last year the commune had about 140 dairy households without consumption contracts.
Standing for Hamlet 3A farmers, Mr. Truong Vinh Phuc said that Vinamilk had recently invited them to debate the issue and required breeders to buy feed from sources appointed by the company unless it would stop buying.
However these sources are more expensive than other while the company has offered a much lower than before price, he says.
On February 24, the Tan Thanh Dong People's Committee organized a meeting to listen to opinions from households selling milk to Tan Thong Hoi Cooperative.
At the meeting, the cooperative proposed each breeder to contribute VND30 million (US$1,349) for the cooperative's development unless it will end consumption contracts.
The breeders proposed their financial contributions must be certified by the communal People's Committee but the cooperative argued that it was unnecessary.
Those unaffordable for the contribution amount were suggested giving their land papers and family record books to the cooperative to get loans but they have to pay interest.
Being unpleased with this solution by the cooperative, many households have reported to local authorities asking for intervention.