While other farm produce and seafood products saw a decline in both export value and volume, cashew nuts continue to help Vietnam to remain as the largest cashew nut exporter for ninth year.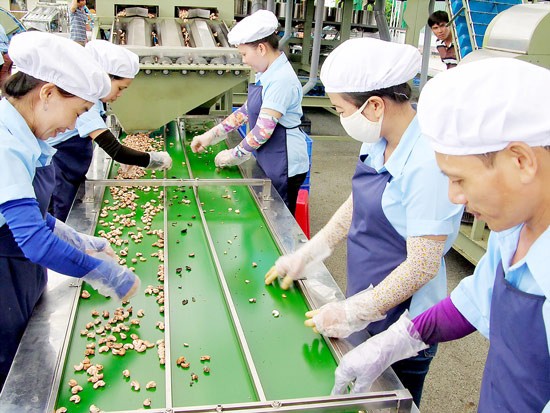 Workers process cashew nuts at a plant in Binh Duong Province. (Photo: SGGP)
According to Mr. Nguyen Duc Thanh, chairman of the Vietnam Cashew Association, figures showed at a recent international conference on nuts said that Vietnam has currently had the highest amount of processed cashew nuts.
Mr. Thanh said that in the first half of this year, businesses exported 150,000 tons of cashew nuts, bringing in US$1.1 billion. At this rate, the country will possibly export 300,000 tons of cashew nuts this year, earning $2.2 billion, equal to that in the previous year. If including products made from cashew nuts, export turnover by cashew industry might reach $2.5 billion. Exports of cashew nuts have been better than other products because current export prices are higher than they were last year. Experts said that drought has caused the prices of all kinds of nuts, including cashew nut, to climb.
However, cashew industry is still facing many challenges. Food safety is a hot issue as several containers of cashew nuts have been returned because they are contaminated with Salmonella or E. coli bacteria, of which there are cases of cross-contamination after cashew nuts had been sterilized.
Currently, the US Food and Drug Administration is checking food safety at cashew nut processing plants. Preliminary figures show that 15 out of 32 businesses failed to meet food safety standards.
Products in a same plant were not of equal quality because input materials were from different origins. Customers prefer Vietnamese cashew nuts because of their better aroma and taste. However, Vietnamese cashew nuts were mixed with raw cashew nuts imported from other countries, especially from Africa, during processing process. This will lose prestige of Vietnamese cashew nuts and affect the building of Vietnamese cashew nut brand name. According to Mr. Thanh, processed Vietnamese cashew nuts are sold 30 cent higher than African ones.
In addition, Vietnamese businesses compete with each other by offering lower prices in order to promote export whereas Brazilian and especially Indian companies do otherwise.
The fact that there are too many cashew nut exporters in Vietnam with 345 companies in 2014, of which the number of companies whose export turnover was below $5 million per annum accounts for 73 percent has created unfair competition and unequal quality, affecting the country's cashew industry. In 2014, 119 out of 265 facilities inspected did not meet food safety standards, accounting for 44.9 percent. In order to maintain prestige of Vietnamese cashew nuts and create fairness among cashew companies, authorities should slap strict penalty on those companies.
The biggest drawback of cashew industry is that despite the fact that cashew nut exports keep increasing, the area of cashew trees and production continually drop, causing the industry to depend on imported raw material whose quality is not as good as domestic one.
In 2007, the area of cashew trees was 444,000 hectares across the country. However, because of poor care, average productivity dropped to 0.8 tons per hectare from 1.1 tons per hectare. To 2014, there was around 294,000 hectares of cashew trees. From a country that mainly uses domestic material for processing, it has become the second largest cashew nut importer with imported volume of cashew nuts nearly equal to that of India, and ten times higher than that of Brazil, the third largest cashew nut importer.
Considering cashew tree as a cultivar that brings advantage to Vietnam, since 2013, the Ministry of Agriculture and Rural Development has taken many measures to help farmers to increase productivity. In 2014, productivity of cashew trees rose by 10 kilogram per hectare compared to the highest yield in the past years. The area of cashew trees has also risen by nearly 4,000 hectares in the past two years.
Mr. Pham Van Nguyen, a cashew expert, said that the current demand for cashew sapling is very high as replantation and improvement of 60,000 hectares of cashew trees from now to 2020 will require millions of cashew saplings every year. The quality of cashew saplings is very important so authorities should keep close watch on multiplication of cashew trees so as to prevent sapling providers from producing poor saplings.
Currently, average productivity of cashew trees is around 1.2 tons per hectare. Some farmers even have seen a productivity of 4.5 tons per hectare.