Despite the impressive success, Viet Nam's agricultural export industry is experiencing problems with materials, quality and pollution.

Redundancy and shortage of processing materials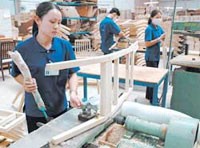 A processing factory of wooden products

The Viet Nam Association of Seafood Exporters and Processors (VASEP) has recently sought the government's permission to import more materials for processing, especially shrimp, because the domestic processing plants are operating at only 30-50% of capacity due to a lack of supplies.

This is the direct result of the mismatch between the massive construction of fish factories and the limited capacity to expand fish farming areas.

When price goes up, Vietnamese farmers rush to expand while the processing capacity of the factories is limited. Thus, the price drops, and they lose a lot of money and stop feeding their fish, which leads to a lack of materials and higher prices in consequence. This vicious circle went round three times in 2006 alone.

The catfish industry needs a new breeding plan so that it can provide sufficient materials and avoid oversupply or a shortage, VASEP says.

The lack of raw materials is a problem in the wooden products export industry as well. Industry Deputy Minister Dang Xuan Khu said 80% of the raw timber was imported.

Last year, wooden product companies imported $760 million worth of raw timber. Their total earnings of $1.93 billion came from export.

The growing import of wood has caused trouble for many timber-processing factories because of the unstable supply of materials from timber exporting countries.

The timber resources of long-time suppliers Laos and Cambodia are becoming exhausted, and the price of raw timber in Malaysia, Viet Nam's largest importer, is increasing sharply.

Quality and food hygiene

VASEP deputy chairman Nguyen Huu Dung said local seafood exporters must focus on product quality and food hygiene standards to meet the demand of foreign customers.

Nguyen Duc Thanh, chairman of the Viet Nam Cashew Association, said America's Association of Food Industries would issue new regulations on food safety. The US imports 60 per cent of the world's cashew nuts and Viet Nam exports most of its cashew nuts to the US.

He also expressed concern that the EU will follow the U.S. in implementing a new rule on quality and food sanitation.

Mr Nguyen Tho of the Viet Nam Plant Protection Association called on coffee and pepper farmers to adopt modern technology for cultivating crops to improve productivity and quality.

VASEP deputy chairman Dung warned that the increase in catfish farming and seafood processing plants could increase air and water pollution, and called for planned farming and new waste water treatment facilities.

Environmental pollution and diseases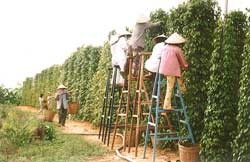 Farmers harvest pepper

Many coffee export countries complained that Viet Nam has caused a redundancy crisis of Robusta coffee and requested Viet Nam to reduce the planted area of coffee trees.

Despite the soil condition, Vietnamese farmers cultivate coffee with abandon. When the dry season comes, coffee trees die and farmers leave the land empty. When the coffee price rises again, they do not have much to sell.

The same thing has happened to pepper. Dr. Nguyen Tho from the Viet Nam Plant Protection Association warned that pepper could only resist disease when it is grown intermittently.

Meanwhile, expanded the farming area of catfish and the widespread construction of processing factories without any waste treatment technology have led to environmental pollution.

At a global conference on catfish trade and technology in Ho Chi Minh City, Dr. Nguyen Huu Dung warned that, besides quality, catfish importers have mentioned environmental standards to Vietnamese firms.
Related article:
Vietnamese Agricultural Export Integrates into the Global Market