Key farming products of Vietnam have experienced a drastic export turnover fall this year because of many difficulties comprising exchange rate fluctuations, world supply increase, and technical barriers from the country's largest markets.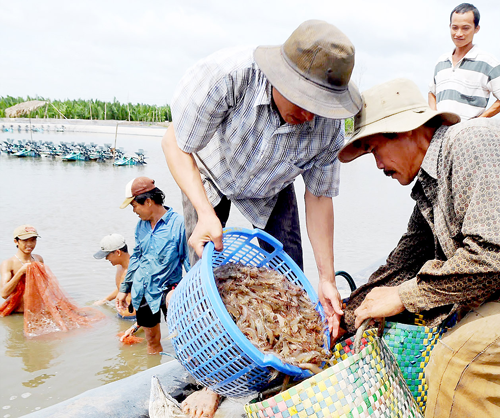 Shrimp harvest in Nha Be district, HCMC (Photo: SGGP)
In March, the US dollar highly appreciated while the euro and Japanese yen depreciated, which the Vietnam Association of Seafood Producers and Exports (VASEP) said have not only affected the world economy but also directly influenced Vietnamese seafood firms.
The US, EU and Japan are three largest seafood markets of Vietnam.
Exchange rates fluctuations, especially in the US dollar, have raised difficulties for seafood exports because over 90 percent of Vietnamese businesses have used the currency for international payment.
While the US dollar to Vietnamese dong was kept unchanged at that time, rival countries floated the rate making local goods more expensive and less competitive.
Shrimp supply has strongly rebounded in the world this year as export countries have taken diseases under control, causing severer competition.
The US has imposed antidumping tax on Vietnamese shrimps not other Vietnam's rivals such as India, Thailand and Indonesia.
According to VASEP, right after the US Department of Commerce announced results of its10th administrative review on tra fish fillets imported from Vietnam early this year, Vietnamese firms have to pay nearly US$1 billion per kilogram on anti-dumping tariff.
The decision has caused tra fish export value to the US market plunge 23.5 percent compared to the same period last year.
Besides, American importers have required Vietnamese firms to reduce export prices due to the US dollar appreciation, making the fish's export prices drop an average of 5 US cents a kilogram over a year ago.
Difficulties from the US, Vietnam's largest market of tra fish, have pulled down local prices.
The tra fish has also faced with severe competition from other natural catfish varieties such as cod and Alaska Pollock.
The Government's Decree 36, capping ice-glazing ratio (ratio of ice glaze to gross weight) of tra fish flesh on the package at 10 percent, has raised difficulties for export companies.
The Vietnam Food Association has reported that the country's largest rice export market--China has issued stricter regulations on granting rice quotas and quality certificate, which have increased export costs.
The Philippines, the second largest market of Vietnam, has defined rice import quota from Vietnam at 293,100 tons this year. Meantime, African market is more advantageous for nearer markets such as India and Pakistan.
Unofficial statistics show that rice exports reached only 3.7 million tons worth US$1.5 billion, down 3.1 percent in volume and 8.3 percent in value, in the first seven months this year. The Vietnam Food Association reported that rice export price averaged US$431 a ton in the first half this year, a year on year fall of 4.64 percent.
The export turnover to China decreased 9 percent in volume and 13.2 percent in value in the seven months.

Related article:
Agro-forestry-fishery exports: secondary items make up mainstay reduction