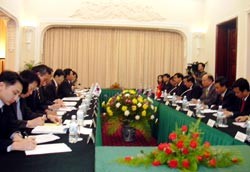 More exhange meetings between local and foreign enterprises will help promote the nation's economy.
Vietnamese diplomatic corps in 30 countries and over 400 local enterprises today joined a forum at the Majestic Hotel in Ho Chi Minh City to discuss difficulties and measures to boost Vietnamese enterprises' business abroad.
Attending the forum were Deputy Minister of Foreign Affairs and also Vietnamese Ambassador to France Nguyen Dinh Bin, Vice Chairman of the Ho Chi Minh City People's Committee Nguyen Trung Tin, VCCI Deputy Chairman Hoang Van Dung, and many enterprises, business associations in Ho Chi Minh City and southern provinces.
Mr. Nguyen Dinh Bin, also head of the delegation of representative offices in foreign countries, stressed on the importance of diplomatic work in promoting the nation's economy and its effects on the local business community.
He welcomed the participants and invited them to discuss possible difficulties and necessary measures to intensify the support for local enterprises, especially in the context of Viet Nam's membership of the World Trade Organization.
"During the renewal period, the Party and State have considered developing the nation's economy as a key task and the diplomatic sector has changed the mission into a priority by taking the advantage of a network of over 80 representative offices worldwide," he said.
On this occasion, the local enterprises and business associations were briefed on current conditions of international markets by many Vietnamese Ambassadors and Heads of representative offices in different regions.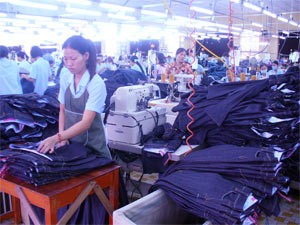 Textile-garment products are among Viet Nam's key export items to foriegn markets. (Photo:TK)
Most of the enterprises agreed that the forum has created an opportunity for overseas representative offices to understand local enterprises' needs and potential; and also for the enterprises have exchanges and learn about foreign markets.
Therefore, Ambassadors and Heads of representative offices overseas will become a bridge linking local businesses with foreign partners; cooperate with each other to set up necessary multilateral and bilateral policies as well as create a transparent and favorable environment for local enterprises to invest in foreign markets.
Most of the enterprises' concerns at the forum were about the information of foreign markets, the laws and policies, professional human resources training programs and the protection of Vietnamese enterprises' rights when operating in these countries.
Many participants agreed with an opinion of Vietnamese Ambassador to Egypt Le Tien Ba, which stated that local business community has a great potential for exports and Vietnamese enterprises should continue to build and consolidate their prestige to foreign partners.