Greenback prices fell again in the local market on October 16 while gold prices went up on the same day.
By October 16, most banks sold a dollar at around VND 22,350 and VND 22,237  each while the ceiling price of the State Bank was VND  22,547 per dollar. Compared to the rates in most of the commercial banks on October 13, they were reduced to between VND 120 to 140  each.
In particular, Vietcombank listed the buying and selling rates at VND 22,270 and VND 22,350. The Techcombank, BIDV and Eximbank set the buying rates between VND 22,180  and VND 22,260, and the selling rates of each dollar was between VND 22,360 and VND 22, 380 .
Since last week, the greenback reportedly lost after the central bank of Vietnam cut interest rates on dollar deposits and issued a new circular on transacting foreign currencies.
Gold prices, on the other hand, went up VND  120,000 (USD 5.3 ) per tael in the local market. On October 16, SJC sold a tael, or 37.5gm, of gold for VND 34.12 million  (VND 1,527). On the global gold trading website Kitco.com, the price for one ounce of gold was USD  1,177 (USD  1,418 per tael).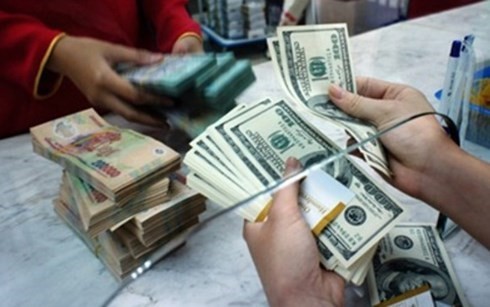 Dollar rates go down in most of the commercial banks on October 16. (Source: vov.v)