The devaluation of the US dollar relative to the dong has reduced the revenue of exporters and is likely to result in losses.  A reduction in agricultural exports and proposals to provide loans and other forms of relief to exporters are being considered as remedies.
 
Exporters are facing difficulties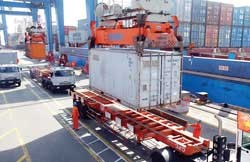 Loading commodities for export at Cat Lai port in Ho Chi Minh City
The export price of robusta coffee is now US$2,500-2,550 per ton, a 200 percent increase over last year, according to the Coffee and Cocoa Association of Viet Nam.
The association is forecasting robusta export revenue of US$2 billion for this year.
 
However, the sliding value of the dollar makes exporting less profitable, said Mr. Do Ha Nam, the association's vice president.
For instance, the revenue gained by exporting of 1,000 tons of coffee will be reduced by VND300-350 million (US$18,700-21,800) as a result of the decline of the dollar.
 
The growing value of the dong has increased the amount of money exporters spend buying commodities, said Mr. Nguyen Dang Chi, deputy head of the Import-Export Department under the Ministry of Industry and Trade.
 
This year, rice exporters have spent VND75 billion (US$4.6 million) buying 100,000 tons of domestic rice. Previously they were only spending VND45 billion (US$2.8 million), he added. 
 
Exporters are also facing difficulties with the banks. The banks are not extending additional loans and are limiting their purchase of dollars from exporters. The banks are buying dollars at lower prices and some charge a 2 percent fee.
 
At present, many exporters have dollars, but banks do not want to buy them. Exporters have to borrow dong from the banks at higher interest rates. The interest rate on savings accounts recently increased from 1.1 to 1.4 percent a month.
 
Exporters are incurring losses in order to maintain their production and are fulfilling previously signed contracts.
 
Helping exporters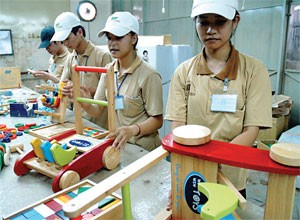 Making wooden toys for export at Duc Thanh Company
The State Bank of Viet Nam should formulate a policy on currencies earned from export in order to reduce the difference between buying and selling rates, said export associations for various commodities.
 
The Ministry of Industry and Trade will work with the central bank, relevant ministries and export associations to seek immediate solutions to help exporters, said Deputy Minister Nguyen Thanh Bien.
 
Mr. Chi suggested a reduction in the volume of exported agricultural goods, especially rice, as a temporary solution. 
 
"The country should export only 3.5 million tons of rice in 2008, instead of the government projection of 4.5 million," he said. "This will not only help exporters reduce loses from the USD/VND difference but will also reduce domestic rice prices."
 
Exporters have also asked the central bank to support commercial banks in buying all foreign currencies earned from the exports at exchange rates fixed by the government with no transaction fee.
 
They have also called for a reduction in the interest rates on loans, and for the approval of more loans to seafood exporters to allow them to purchase more seafood from farmers.