Financial experts said gold prices plunged in Viet Nam this morning following global prices which fell in accordance with dropping crude oil rates and the appreciation of the US dollar.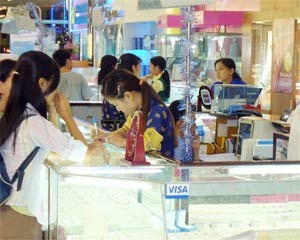 Recent gold price's reductions encourage more local buyers to purchase gold products.(Photo:TK)
Saigon Jewelry Company (SJC), a leading Ho Chi Minh City-based gold trader, reported their gold price early this morning slipping by VND120,000 a tael (1.25 ounces) to VND11.63 million.
The company reported a slight increase in their sales volume Tuesday, saying that around 10,000 taels had been sold within the day thanks to the strong buying power in the domestic market.
Lower oil prices and the recent appreciation of the US dollar have had a weakening impact on the precious metal.
However, many international banks and investment funds predicted that gold prices in the global market would rally through 2006 and further into 2007, estimating that gold will end up averaging around US$633 an ounce for late 2006 and US$753 for 2007.
According to market analysts, some major reasons for the rise of the world gold price remain in place; which include geo-political tensions, high energy prices and investment demand.
Many traders expect that gold prices will continue to increase because Asian markets, particularly India, will enter a season of weddings and festivities with a high demand for jewelry.