More Vietnam's investments are flowing into foreign countries, but their effectiveness remains low, according to the Ministry of Planning and Investments.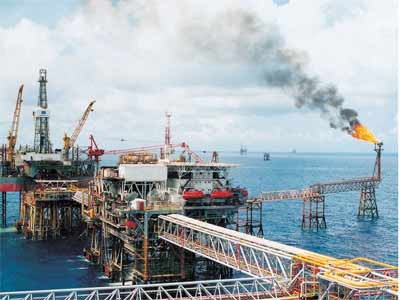 Among domestic enterprises, oil and gas giant PetroVietnam makes the biggest investment in foreign countries (Photo: daukhi.vietnamnet.vn)
Statistics from five local enterprises investing the most in foreign markets show they have not earned profits from the total investment of more than US$1.24 billion.
Analysts said most of the big investment projects of local firms in foreign countries were long-term with, focusing on natural resources, oil, rubber and power.
"Therefore, speeding up the progress of those projects means pouring a large amount of capitals from Vietnam into the foreign countries, which will likely to affect the domestic investment flow and the international balance of payment," said an economist at a HCMC-based university.
Despite the increase in domestic investments poured into foreign markets, the return rate remains very low, equivalent to 0.46 percent in the period between 1989 and 2010.
Statistics from 300 domestic investments in foreign countries show their total profit reached only $39 million, while the disbursement rate has been up to $1.8 billion since September last year.
Gasoline and oil firms have carried out investment projects worth nearly $900 million in foreign markets, making 49 percent out of the country's total amount. However, most of them carried a high risk of losses.
The state-own gas giant PetroVietnam had to cancel six of 25 projects, which are worth $10.6 million. The Vietnam Coal and Mineral Industrial Group made a similar move, halting one of five mining projects in Laos and Cambodia.
"There is no mechanism supervising the investments of domestic groups in foreign countries," a financial expert warned.
The Foreign Investment Department expects the domestic investment will flow stronger in upcoming years as Vietnam becomes a WTO member.
However, the department notices that it is hard to manage the flow due to a lack of regulations providing guidelines on reporting those investments' progress and punishing violations. 
The Ministry of Planning and Investments last year instructed contractors of 516 domestic investment projects in foreign countries to report the progress. However, only 300 reportedly followed the instructions, while 149 haven't replied and 69 "disappeared".
Bulk investments in five years
Vietnam has carried out 410 projects with the total investment of more than $7 billion in foreign countries for five years, according to the Ministry of Planning and Investments. Each has an average investment of more than $17 million.
Domestic enterprises have invested in Laos the most, with 178 projects with the total investment of over $3.2 billion. Following is Cambodia with 82 projects worth around $1.3 billion.
PetroVietnam has poured the biggest investment into foreign countries so far since last October, with 25 oil and gas projects in 17 countries around the world.