World oil and gold prices soared with the opening of the new year causing a price hikes in raw material imports and domestic finished goods.
 
Petrol Companies Reportedly Incur Losses?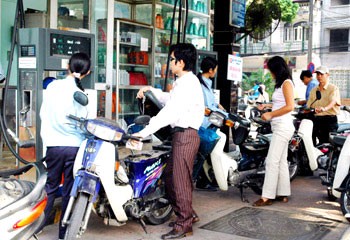 World oil prices push local petrol prices up 
On the year's first trading session, the world oil price hit US$100 per barrel. In New York, crude oil for February delivery has risen US$3.64 per barrel to close at a record high of US$99.62 per barrel.
 
Saigon Petrol Director General Dang Vinh Sang said world oil prices have pushed local petrol prices up.
 
Petrol imported from Singapore, Sang noted, cost over US$100 per barrel on December 27, 2007 and it continued to climb to US$102.5-103 per barrel over Dec. 28, 2007 to January 2, 2008.
 
Saigon Petrol is suffering losses, claimed Sang, of VND600-700 (US$0.03-0.04) per liter at the pumps at the current international oil prices.
 
Asked if local petrol prices will rise again soon, local petrol dealers said they can't raise their prices now, but they'll make sure that, if the world prices stay around US$100 per barrel, another hike in local prices will be made.
                   
Material Imports Push Local Inflation
 
Grocery prices generally rise on transport cost increase after a month of a retail petroleum prices hike. But grocers' prices are already sharply higher than last year.
 
At Binh Dien Market, seafood has gone up by VND1,000-6,000 (US$0.06-0.3) per kilogram. In Bac Lieu Province, salt is wholesaling at VND3,600 (US$0.22) per kilogram, up 1,000% over last year. Liquid petroleum gas (LPG) prices rose by VND8,000-9,000 (US$0.50-0.56) per canister.
 
Southern Rubber Industry Joint Stock Company (Casumina) Deputy Director Nguyen Quoc Anh said that, previously, when natural rubber prices rose dramatically his company raised the proportion of synthetic rubber in products to keep product prices stable. Recently, the price of synthetic rubber has also increased sharply, to US$2,400 per ton, up 20 percent over 2006, due to higher world oil prices.
 
Casumina has done its utmost to minimize costs, Mr. Anh claimed. But, if prices of raw materials prices do not fall back to earlier levels, Casumina will have to raise its prices by 3-5 percent or suffer losses, he added.
 
An unidentified telecom company executive said that, like gold, prices of copper and tin have also soared recently, pushing cable prices up so rapidly that the companies have begun incurring losses on installation contracts just recently signed.
 
Vietnam Chamber of Commerce and Industry's Legal Department Head Tran Huu Huynh said differences between world and domestic prices will evaporate in 2008 as Government allow prices of more and more goods to float with world prices and local firms will have take begin better forecasting or buffering against world price changes to avoid losses.
 
Vietnamese producers still depend too much on imported materials, Mr.Huynh noted, suggesting they should cooperate to finance larger materials orders every six to twelve months to help stabilize local prices.