Most domestic shipping lines are underperforming and sinking in difficulties partly due to unreasonable structure of domestic vessel fleet, according to reports at a meeting between the Ministry of Transport and domestic shipping lines on August 5.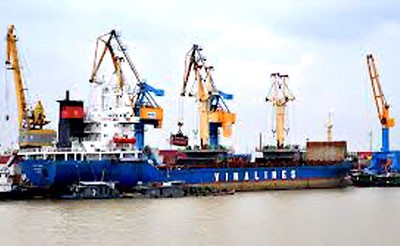 The Vietnam National Shipping Line (Vinalines) 'plunge' thousands of billions of dong from the state budget (Photo: SGGP)
According to the Vietnam Maritime Administration, the vessel fleet structure in Vietnam is in excess of bulk carriers and shortage of container ships, which counts only 28 out of the total 1,700 vessels.
Development index of Vietnamese container ships averaged only 1.1 percent for the last four years compared to 6.8 percent in the world.
Their operation area is narrow within in the Southeast Asia, China and Taiwan (China). They are unable to conduct straight trips to farer markets in the world.
Domestic vessel fleet undertakes barely 10-12 percent of the country's export and import output. The remaining is transported by foreign vessels.
Several companies in the industry have suffered long lasting losses and been in the verge of bankruptcy.
Mr. Do Xuan Quynh, secretary general of the Vietnam Ship-owners Association, said that most of their members have to sell their services at prices lower than cost prices. They are in a severe shortage of capital to maintain production and develop their vessel fleets.
Mr. Ngo Minh Tuan, deputy director of Saigon Newport Corporation, proposed the ministry to issue floor price regulation on loading and unloading services at ports in Hai Phong and Ho Chi Minh City. This aims to stabilize the market and prevent domestic shipping lines from plunging their prices to keep customers.
Deputy Minister of Transport Nguyen Van Cong said that the ministry has worked with the Ministry of Industry and Trade and other agencies to bring more opportunities to Vietnamese shipping lines.
Large export companies have agreed to use domestic vessels for delivery of goods to near markets. After a certain period, Vietnamese carriers can transport cargo to farer areas if they can meet requirements.
He proposed the shipping companies to pay attention to two vacant fields including cement, and gas and liquefied products. 
Minister of Transport Dinh La Thang promised to continue administrative reform and submit a floor price regulation to the National Assembly Steering Committee for approval.