Viet Steel Group will begin work on the second phase of a steel plant in the Phu My industrial zone in the southern province of Ba Ria -Vung Tau at the beginning of September.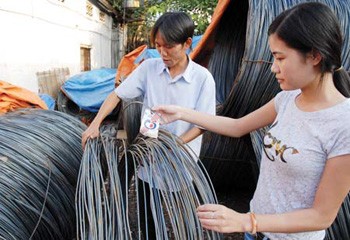 A steel shop in Ly Thuong Kiet Street, HCMC. With several giant foreign steel plants being built, the domestic steel industry faces the threat of becoming a bit player (Photo: SGGP)
Once completed, it will take the group's total annual output to one million tons, making it Vietnam's largest domestic steel player, but an analyst called its move risky.
The analyst, who wished to remain unnamed, said it means the group would have to take on foreign steelmakers, many of whom have been licensed to set up huge projects in the country.
The Ca Na steel complex in Ninh Thuan, which began construction of its first phase last November, will have a capacity of 14.42 million tons a year
It is a joint venture between Malaysian group Lion and Vietnam Shipbuilding Industry Corporation (Vinashin).
A Taiwanese steel company, Formosa – Sunco, also began construction of a plant last year in the central province of Ha Tinh with a capacity of 15 million tons.
Eight others are in various stages of construction.
Pham Chi Cuong, chairman of the Vietnam Steel Association, said while all these would see Vietnam's steel output skyrocket in the next five to seven years, production by Vietnamese businesses would account for just a small share.
Another analyst, who also wanted to remain unnamed, said domestic businesses are treated unfairly by the authorities.
He said the most glaring example is the choice of location to build steel plants – advantageous locations are usually given to foreign and not domestic businesses.
While foreign companies are allowed to mine iron ore, domestic companies have to import either ore or scrap steel for their plants, he said.
Some domestic steel firms are considering pulling out of the industry.
Le Phuoc Vu, chairman and general director of steel firm Ton Hoa Sen, said his group is considering calling halt to a US$200 million plant.
Protect domestic businesses

Analysts point out that the main reason for encouraging foreign investment is to attract money, obtain new technologies, make domestic companies more competitive, and develop support industries.
So the incentives offered to foreign investors should not put domestic companies at a disadvantage, they said.
Economist Pham Chi Lan said the Government gives priority with regard to resources, land, and business rights to foreign and not domestic private businesses who contribute a great deal in providing jobs and economic growth.
She called on the Government to carefully consider before licensing FDI projects.