The manufacture and widespread use of fake or poor quality fertilizers is adversely affecting agricultural production and farmers' incomes nationwide, the Viet Nam Fertilizer Association has warned.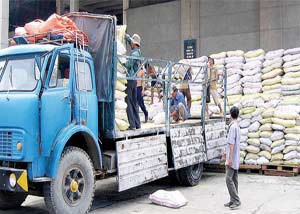 Fertilizer bags are loaded onto a truck for delivery (Photo: SGGP)
Association members at a meeting in Ho Chi Minh City Wednesday called for stricter controls and punitive action against those responsible, as well as closure of facilities producing substandard products.
The use of fake and poor quality fertilizers had been recorded in at least 30 provinces and cities, the meeting was told.
Farmers in some provinces in the Mekong Delta are using about 20 percent less NPK fertilizer than earlier, said Le Quoc Phong, vice president of the association and director of the Binh Dien Fertilizer Company.
In a commune in the Central Highlands, the use of fake NPK fertilizer has damaged hundreds of hectares of coffee, causing huge losses, he added.
The association blamed the production of dubious or sub-standard fertilizer on companies trying to cope with increased input prices by reducing the nutrient content. Some companies have done this to cut down costs and gain illicit profits. Testing of fertilizer samples produced by these producers showed 40 – 50 percent did not meet the required nutrition standards.  
As of last month, 61 producers of fake or poor fertilizers had been found. Investigations also revealed that many banned fertilizers were still being traded in the market. Market monitors have seized more than 2,000 tons of fake, low-quality and banned fertilizers so far this year, according to the association.
It also blamed the proliferation of fake and substandard products on the consumers opting to use cheap fertilizers.
Offenders get off too lightly
Participants at Wednesday's meeting highlighted laxity in the granting of licenses and low fines as major contributing factors to the problem.
Low-quality fertilizers are often manufactured by small-scale businesses, where just VND25-30 million (US$1,500 - 1,800) in capital is enough for production, said Pham Quang Vien, deputy head of the Market Management Department, the Ministry of Industry and Trade.
Meanwhile, well-established companies are ready to spend as much as VND15 – 20 billion (US$900,000 - 1,200,000) in producing high-quality fertilizers, but not many such manufacturers are operating in the country, he said.
The slight penalties currently imposed fail to prevent the production of fake and sub-standard fertilizers, the meeting was told.
The maximum fine imposed on a company was VND20 million, while the profits it could earn from fake of low quality fertilizers runs into billions. Furthermore, the company is not subject to criminal prosecution or having its license revoked.
The meeting agreed that fertilizer should be included in the list of products manufactured under tight controls, and that producers need to meet conditions set for manufacturing standardized fertilizers.