So far, as many as 119 projects worth over US$5.3 billion in total have been licensed in the Dung Quat Economic Zone in central Quang Ngai Province.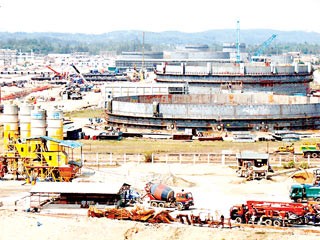 The Dung Quat Oil Refinery under construction
Among the licensed projects, 34 are in operation and 24 are in the process of clearance and compensation for landowners.

In the first six months of 2007 alone, the Dung Quat EZ Management Board granted licenses for 12 projects and approval for 21 projects, capitalizing a total VND4 trillion (US$250 million).

Chairman of the People's Committee Nguyen Xuan Hue stated that the Dung Quat Economic Zone will be armed with all the incentives it needs to operate and attract investment into the central province's industrial zone.
The provincial leader made the statement at a recent ceremony to transfer the operating rights of the Zone's Management Board from the Prime Minister's control to the provincial People's Committee.
Mr. Hue said that the province is focusing on the construction of the Dung Quat Oil Refinery and other major projects in the zone as a catalyst for the area's future growth.

Mr. Truong Van Tuyen, Deputy Director General of PetroVietnam and head of the Management Board for the Dung Quat oil refinery project, said the refinery is scheduled to start a trial run in mid-August 2008 and come into operation in February 2009.