The free trade agreement between Vietnam and the Eurasian Economic Union (EAEU) comprising Russia, Belarus, Kazakhstan, Armenia and Kyrgyzstan was officially signed on May 29 after many years of negotiations, opening a big opportunity to the country's exports.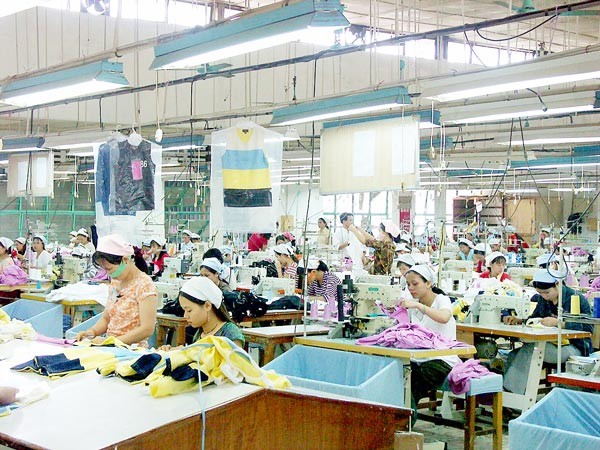 Vietnam's garment and textile export turnover to EAEU might increase 50 percent with the recently signed FTA (Photo: SGGP)
Vietnam has become the first nation outside the Commonwealth of Independent States that signs free trade agreement with the union.
 
The agreement will abolish 90 percent of tax lines, equivalent to 90 percent of bilateral trade turnover.
 
Nearly 100 percent of Vietnamese seafood products and 80 percent of garment and textile and leather and footwear items will enjoy 0 percent tariff rates.
 
Other tax lines would be abolished in accordance with a committed route. Many farm produce and wooden items would be imposed low tax rates.
 
Vietnam will follow a route to open its market to some breeding and industrial products such as machines, equipment, transport means, steel and petrol.
 
The union's farming production has mainly served their demand not exports. Therefore, it is forecast that the FTA will not much affect Vietnam's agricultural industry in the first five years of implementation.
 
Initial estimations from the union show that bilateral export import turnover will hit US$10-12 billion in 2020 from US$4 billion last year. Meantime, Vietnam expects its export turnover to the union to grow 18-20 percent annually.
 
Many Vietnamese businesses said that the union's members especially Russia have been long-term trading partners of Vietnam but high tariff rates have hindered annual trade growth.
 
According to Vietnam National Textile and Garment Group, the union's annual import turnover of garment and textile products approximates US$17 billion. Of these, Vietnam holds only 2 percent with US$700 million due to tariff barriers. The turnover is expected to increase 50 percent thanks to tax cut.
Challenges seen from the FTA to Vietnam comprise long geographical distance, causing difficulties in goods transportation and preservation, and hindrances in payment with foreign currencies such as the U.S. dollar and euro.
EAEU locates over 20 million kilometers accounting for 15 percent of the world area with a total population of 175 million. The union's Gross Domestic Product reached US$2.5 trillion. It takes the lead in the world's gas output, and is ranked the third and forth in electricity and coal outputs.