East-West Economic Corridor (EWEC) member countries met June 26 to work out measures to clear obstacles to promote investment, trade and tourism to accelerate economic development in the EWEC, which links Myanmar, Thailand , Laos and Vietnam.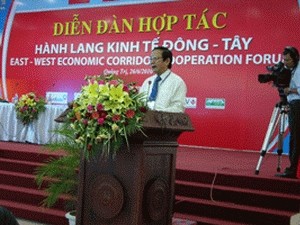 Nguyen Duc Cuong, Chairman of The Quang Tri Provincial People's Committee speaks at the opening of the East-West Economic Corridor Cooperation Forum on June 26 (Photo: VNA)
Local administrations along the EWEC have to play key roles in enhancing connectivity, competitiveness and sense of community, said Ayumi Konishi, country director of the Asia Development Bank in Vietnam, at the EWEC Cooperation Forum in the central province of Quang Tri.
Mr. Konishi said transnational transport and quicker procedures for crossing borders have facilitated trade in the region.
However, he said, the Agreement on Exchange of commercial traffic rights along the corridor, where transport operators are allowed to operate across borders, has yet to create a good connection among regional trade centers.
The regional countries have to strive harder to strengthen the economic connection to achieve their aim of bringing benefits to residents in remote areas, he added.
Deputy Permanent Foreign Minister Pham Binh Minh called on localities and countries in the corridor to develop their potential and boost cooperation to overcome difficulties and create opportunities for EWEC members to develop socio-economy and ensure regional security.
Nguyen Xuan Phuc, Vietnamese Government Office chairman, said the EWEC has boosted trade exchanges among the four countries since it was open to traffic four years ago.
The four countries need to enhance further cooperation in simplifying procedures, creating favorable conditions for crossing borders, developing tourism, and attracting investment, he added.
Le Huu Thang, deputy chairman of the Quang Tri Province People's Committee, said governments of EWED member countries need to modernize loading equipment at ports.

Immigration and health checks at borders have to be synchronous, he added.
The EWEC, a 1,450km long highway, is an economic development program initiated in 1998 by the Ministerial Conference of Greater Mekong Sub-region in order to promote the development and integration among the four countries.