The National Financial Supervisory Commission has forecast that economic growth rate will approximate 5.7-5.8 percent in a recent macroeconomic report in the first half this year.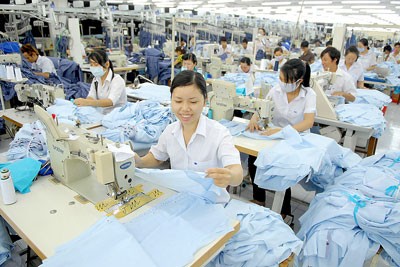 Garment production for export at Nha Be Corporation (Photo: SGGP)
The commission's forecast was picked up from the economic growth trend for the last two years and China's illegal placing of Haiyang Shiyou 981 oil rig in Vietnam's continental shelf.
According to the report, Gross Domestic Product (GDP) growth hit 5.18 percent in the first half of 2014, mainly owning to service and industry and construction sectors. It was 4.9 percent in the same period last two years.
Quarterly GDP growth has seen on the rise since the second quarter last year. The rate reached 5.6 percent in the second quarter this year, a 0.3 percent year on year increase.
Industrial production has slowly improved, according to the commission.
In the first half this year, the number of newly established companies fell 4.1 percent over the same period last year. The number of shut-down enterprises increased 16.2 percent.
That is because of weak aggregate demand especially investment demand, said the commission. Foreign Direct Investment has slowed down, by anti-China riots in some industrial zones occurred in May.
Core inflation has basically reduced since October last year and was curbed below 5 percent in the first months this year.
The commission predicts that the inflation rate will be controled at about 5 percent this year if there is no fluctuation in prices of essential goods.