As part of an economic restructuring project for the 2011-2020 period, Vietnam aims to improve its economic competitiveness, develop a sustainable economy, and boost income per capita to US$3,000-3,200.

The objective of the plan, which has been submitted by the Ministry of Planning and Investment to the Government for approval, is aimed at removing obstacles to economic development and enhancing quality, efficiency, competitiveness and value of key products and the economy as a whole.
Weaknesses

Despite positive signs of recovery in the wake of the global economic downturn, the country still faces many socio-economic challenges.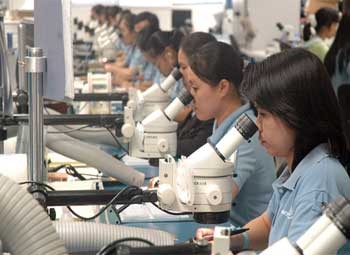 Workers at the HCMC Hi-Tech Park. Experts warn that the proportion of hi-tech products in the total export turnover has almost unchanged in the past ten years, just six percent. (Photo: tinmoi.vn) 
Average annual growth has tended to decline, economic growth is based mainly on exploiting natural resources, and efficiency in use of capital is low as is productivity. Production costs, meanwhile, have remained high and look to continue increasing. Together, these factors have weakened Vietnam's economy.

The proportion of hi-tech products included in total export turnover has been almost unchanged in the past 10 years, at just 6 percent.  

Economic strength is also based on cheap domestic labor costs. Exports are mainly outsourced products while locally manufactured items have low added value as they are based on imported materials.

The number of national-brand products is also just a few. Products contributing the most to the country's GDP and export turnover are not industrial products but come mainly from agriculture, fisheries and mining.

Of Vietnam's 112 economic branches, only 26 contribute 1 percent each to the country's GDP, according to the Ministry of Planning and Investment.

Truong Gia Binh, chairman of the FPT Management Board, said the country needs to create more groups representing national brands and promote them to the world.

Another weakness is that State-owned enterprises (SOEs) have yet to prove themselves as a driving force of the economy, while the private sector remains small and thus unable to boost economic development.
Meanwhile, the foreign-invested sector has developed vigorously but few technological transfers have been made from this sector to domestic ones. Vietnam is therefore kept reliant on international companies.

In addition, provinces and cities in economic zones have yet to cooperate effectively to promote comparative and competitive advantages of each locality.
Support for SOEs, SMEs

Dr. Cao Si Kiem, chairman of the Vietnam Association of Small and Medium Enterprises and member of the National Financial and Monetary Advisory Council, said, "Like many other countries, Vietnam is restructuring its economy in the post-crisis period to have more sustainable economic growth.
"We must meet what the world market needs and remove all obstacles to economic development. There should be specific solutions, both short and long term, for re-arrangement of SOEs and support for SMEs."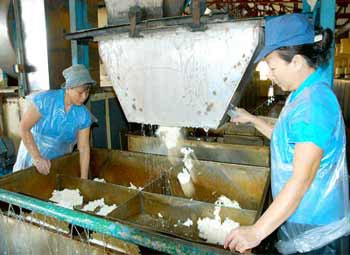 Workers process rubber at the Long Thanh Rubber Plant in Dong Nai Province. Experts say the products contributing most to the country's GDP and export turnover are not industrial products but are mainly from agriculture, fisheries and mining. (Photo: SGGP)
Public investment in SOEs accounts for 40 percent of GDP, but the average growth of these enterprises is just 10 percent, far lower than the 19.6 percent growth of the foreign-invested sector and the 43.8 percent growth of the private sector. Therefore, boosting efficiency of State spending on SOEs is an urgent issue to consider, according to experts.

Most SOEs are suffering losses, except around 300 that operate profitably, and the country now has more than 1,500 SOEs subject to equitization. However, this equitization work is being carried out sluggishly, according to the General Statistics Office.

When it comes to economic restructuring, the first thing to do is reorganize the business landscape, said Vu Tien Loc, chairman of the Vietnam Chamber of Commerce and Industry. "Firstly, State-owned groups and corporations should take a lead in technological renovation and self-reorganization," he said.

In addition, infrastructural development and human resource training must also be strengthened to facilitate economic restructuring, Mr. Loc added.

The economic restructuring plan comprises three major tasks: first, improving the market economy in conformity to Vietnam's World Trade Organization (WTO) commitments; developing infrastructure and stepping up administrative reform; and strengthening the training of human resources.
To help boost the competitiveness of the economy, experts say that State-owned corporations or groups should be equitized and operate under market mechanisms so they can play a steering role in a number of leading economic sectors.

The private sector should be developed both in quantity and quality, while the foreign-invested sector should focus on hi-tech products and make technological transfers to other economic sectors, especially the private one. 
To improve the efficiency of the economy, priority should be given to industries with higher competitiveness. In the future, such industries as metallurgy, electronics, oil refinery, IT and tourism services should become spearhead sectors, along with industries like textiles and garments, leather and shoes, and wood processing.
Comprehensive strategies

According to experts, agricultural production and quality of life in rural areas must also be enhanced. A system is needed that connects production, processing, distribution and consumption of key farm products like rice, coffee, pepper, cashews, and rubber in the Central Highlands and Southeastern regions.
The ultimate goal of economic restructuring is to increase productivity, quality, and efficiency of the national economy in each industry and even for each key product, experts said.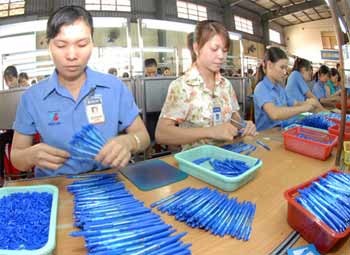 Workers at a pen factory of HCMC Thien Long Group. The private sector posts average annual growth of 43.8 percent, far higher than the 10 percent growth of SOEs and 19.6 percent growth of the foreign-invested sector. (Photo: SGGP)
To realize this, the country needs advanced hi-tech industry, agriculture, and services to replace economic results based mainly on natural resource exploitation and outsourcing. As for the service sector, it must create more high value-added services.

Dr. Tran Du Lich, a member of the National Assembly's Economic Committee, agreed that economic development in Vietnam has been based mainly on the country's cheap labor advantage, natural resource exploitation, and export outsourcing, which has ultimately had a negative impact on the national economy, he said.

"If these weaknesses are not overcome soon, the country is likely to continue suffering macroeconomic instability," he said.

According to the Global Competitiveness Report, a yearly report published by the World Economic Forum, the national competitiveness of Vietnam ranks 82 out of 133 major and emerging economies for 2009-2010 – a drop of seven positions from the previous tally, experts said. 

Dr. Nguyen Mai, chairman of the Vietnam Association of Foreign Invested Enterprises, said, "Vietnam will create [more] chances for development if its economy is renovated in the right direction. Solutions to the restructuring the economy must be suitable for both internal and external conditions." 

The restructuring project has so far launched 11 measures, including steps towards macroeconomic stabilization, restraining inflation, reducing budget deficit, improving market mechanisms, and giving equal support to all economic sectors. 
  
In addition, the Government will set up a general department for support private enterprise development and an investment guarantee fund for SMEs. It will also require credit institutions to earmark 30 percent of lending for SMEs.
The restructuring project also proposes that a national committee for renovation and development or a ministry of economic development be established to lead the restructuring of the economy.

"To make the project a success, we must determine what is to be done, who is to do it, and how to do it," Dr. Kiem said.