The government's stimulus package, and four percent loan subsidies, have to be monitored closely and effectively to enable funds be used effectively and benefit all sectors and people, said economists at a Friday workshop to review research by the Development and Policies Research Center (Depocen).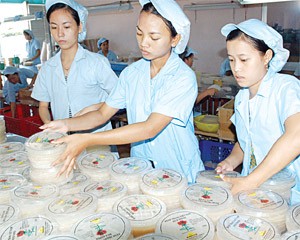 Making rice paper at Ut Duoc factory in HCM City's Cu Chi District. Economists said the government's stimulus package and loan subsidies should benefit all sectors and people. (Photo: SGGP)
Economist Pham Chi Lan said the implementation of the government's policies needs to be made public to achieve social consensus.
 
"The stimulus package has been implemented since February, but not many people know and understand it. Not many people know for whom and for what the $1 billion package has been given", she said.
 
"About the VND93 trillion ($5.4 million), which banks have loaned under the government's subsidized loan scheme, no one knows how much small and medium sized enterprises have received, what they have done with the loans, and how many laborers have been kept from unemployment thanks to the loans," she added.
 
Ms. Lan Said information related to the implementation of the policies has to be made public.
 
Dr. Le Dang Doanh said subsidized loans and the effectiveness of using them by businesses have to be transparent.
 
He said stimulus must go together with administrative reform to enhance its effectiveness.
 
The government should establish a special team to monitor and inform effectiveness of the stimulus package, and be updated weekly about its performance, he added.
 
Many economists voiced concerns about the government's focus on and expectations of the subsidized loan scheme.
 
Dr. Nguyen Quang A said the government has to keep a close watch on the scheme to make timely adjustments if events change or occur.
 
Dr. Luu Bich Ho agreed with Dr. A and said the top priorities are creating jobs, ensuring social welfare, stimulating domestic consumption and then stimulating investment.
 
If the stimulus is not done carefully, the government will have to spend large amounts of money and these funds might only end up in large corporations' pockets while small firms and laborers will not benefit, Dr. Ho added.
 
Dr. Nguyen Ngoc Anh, Depocen director, said it is completely right when the government has adopted stimulus solutions in the current situation.
 
However, he said, the subsidized loan policy does not sound fine because it is aimed to encourage business investment while investment does not depend on lending interest rates but consumption of output. Companies will not invest money in businesses if they cannot sell their products.
 
The government should reduce that amount that companies have to pay for social, health and unemployment insurance funds instead of subsidizing their loans, he added.
 
Dr. Anh said it is also a right policy that the government has supported food companies to buy all rice from farmers, however, investment in education, rural infrastructure and construction of food warehouses should also be focused on.