The Vietnamese economy has bottomed out and is on its way to recovery, economists and lawyers said, explaining it was part of a normal economic cycle.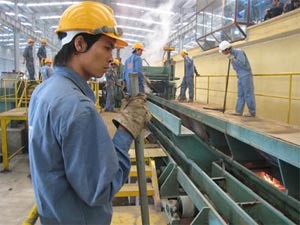 The Song Hong Company's steel plant in Phu Tho Province. Industrial production has been in decline since March 2008, bottoming last January.
Speaking at a workshop on "Global financial crisis and its impacts on the Vietnamese economy" held by International Business and Law Academy (IBLA) and Ho Chi Minh City Lawyers Association, Truong Dinh Tuyen, former trade minister, said, however, the recovery would be U- rather than V-shaped.

Exports have dropped relentlessly since October, bottoming in January, he said, when they plunged 18.6 percent from December.

Industrial production too fell since March 2008, reaching its nadir last January, falling 8.6 percent month on month.

Mr. Tuyen said if the Government's stimulus package is implemented well, the economy would recover and begin to grow from the second quarter.

But Dr. Nguyen Thi Son, IBLA head, said the economy would only get better in late 2009 and early 2010.

But all participants agreed there are several good recovery signs.

Mr. Tuyen suggested two ways to speed up recovery: Using the package to offer loans, subsidizing lending interest rates, helping enterprises reduce capital costs, and producing competitive products to stimulate consumption; and strengthening public investment, investing in infrastructure, health, education, and agriculture and rural areas.

Dr. Vo Tri Thanh said the Government needs to implement several measures simultaneously like administrative reform, improving regulations, developing the financial, property, and labor markets, restructuring state-owned enterprises, and using the stimulus package to develop infrastructure.

Delegates said the Government should lower the primary interest rate to support the entire economy instead of providing a 4 percent interest rate subsidy to some dying enterprises.