Production and trade activities briefly returned to be eventful as the economy showed signs of recovery early this year. However after electricity price was increased 7.5 percent in March and petrol price was lifted twice in May, many businesses have operated moderately to keep customers.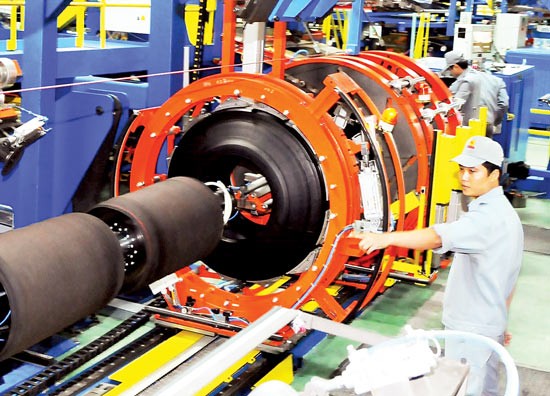 Petrol, electricity price increase raises difficulties for many businesses (Photo: SGGP)
In May, petrol and diesel prices were raised to VND20,430 and VND500 a liter respectively.
Mr. Nguyen Trung Binh, director of Hoang Thanh Trade Production Company in Binh Tan District, said that the rise in gas, electricity and petrol prices has led material costs to move upwards. Meantime, the company has met with difficulties in consuming its plastic household appliances because of weak purchasing power.
The company now operates moderately, conducts layoffs and tightens expenditure. If the prices continue increasing, it might have to accept less profit or non-profit to keep customers, Binh added.
Tran Thanh Hong, director general of Thien Hong Phat Trade Production in District 12 said that their wooden products had mainly been exported abroad or sold to other provinces. the fuel and electricity price rise has sent additional costs to exceed 20 percent.
The company belongs to small and medium scale group and faces severe competition from other wood companies in surrounding nations. It is impossible for the company to raise selling prices, therefore it has accepted less profit to make up costs, according to director Hong.
They are operating moderately with traditional orders and waiting for upcoming price changes, Hong added.
Most businesses said that temporary measures for up electricity and petrol prices were cost reduction, energy saving and layoffs.
Fuel and power prices should not change continuously and highly surge as present. Authorized agencies should have solutions to stabilize the prices in relatively long periods, they said.
Economic expert Nguyen Duc Minh Hai from the HCMC National University said that direct impacts from the petrol and electricity price increase was rather high and indirect impacts were much higher. The price of some goods and services has been rocketed unreasonably, which will increase input material costs causing difficulties for businesses.
Authorized agencies should have measures to prevent an excessive increase of goods and service prices, Hai said.
The Price Management Agency under the Ministry of Finance has proposed finance departments to work with relevant agencies to intensify price management and stabilization in the market, said the agency head Nguyen Anh Tuan.
They should closely follow supply and demand to timely supply provincial and municipal people's committees with solutions to stabilize the prices.
Inspection will be strengthened over essential items such as milk products for below six year old children or medicines, cement, steel and gas and transport fee also.
Relevant agencies should keep a close eye on the price declaration of subsidized products to prevent irrational price increase.