Goods quality examination procedures take importers an average of 7-10 days and over 16 days to processed food and beverage, said businesses at a conference hosted in Ho Chi Minh City yesterday to consult them about the implementation of the Customs Law.
 
Businesses wait for customs clearance (Illustrative photo: SGGP)
Mr. Dinh Cong Khuong, chairman of the member council of Khuong Mai Steel Company, said he is unclear why steel materials and products have always been put in red line, meaning consignments must pass quality inspection before being taken out from ports.
A consignment must have nine samples tested costing VND3-5 million a sample, the time for businesses to get results is 15 days.
 
Mr. Khuong said his company must pay many billions of dong for storage and sample testing fees to import about 12 million tons of steel a year.
 
Taxable prices imposed to steel importers are regularly higher than import prices. For instance, a steel billet ton is imported at US$350 but authorized agencies impose the dutiable price of US$400 and even US$600 to some firms.
 
Many businesses have queried customs agencies about this and been answered that the high dutiable price was because of 'fraudulent factors', dissatisfying importers saying they have sufficiently presented documents, legal contracts and transfer information. Moreover, the import price list has been publicly posted.
 
Representative of ALC Group Dang Van Hieu said the company did customs clearance for 3,000 consignments comprising 10-20 containers each a month.
 
It is not less than 15 days for authorized bodies to verify the goods quality and the company has to pay about US$40 to storage a container a day excluding other costs for workforce and loading and unloading, he added.
 
Mr. Nguyen Tien Dung, head of the Export Import Department at An Giang Plant Protection Company, said that Circular 38 on export tax refund had been released recently with more prolix procedures than the previous one.
 
Completing all required documents doest not mean customs clearance has been done because customs agencies will consider the last time before making decisions to pay taxes back or not.
Tax refund procedures on equipment and production line imports are more complicated. Some businesses have not been rebated and forced to deduct production costs to make up for the lost amount.
 
According to businesses, unclear regulations with common words have created conditions for customs officials to raise difficulties to them.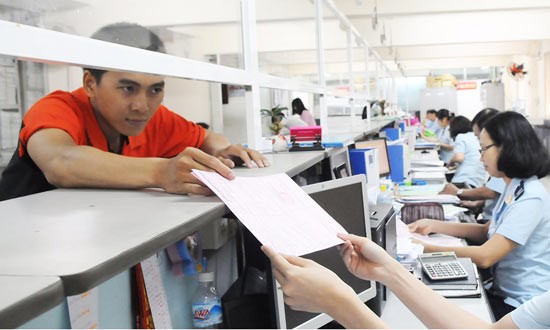 A company employee files customs documents (Photo: SGGP)
Before the circular 38 took effect, businesses just needed to list their goods in forms before transporting the goods to storages and working with authorized agencies to verify the quality. Customs agencies were entitled to unexpectedly inspect the warehouses where import consignments were kept.
 
Importers could take their goods out from ports after there was a customs clearance certificate.
 
However, according to the new circular, these procedures are just for directors of customs agencies to refer to before making the last decision, meaning businesses will be unable to take their goods to stores after completing all related procedures if the directors do not approve.
 
Businesses have proposed the General Department of Vietnam Customs to specify when goods will be straightly taken to storage and when they will be kept at port yards for quality verification.
 
Another issue is that after completing customs clearance procedures, businesses must access the website of the general department to print customs declaration with bar code and transfer it to the department's Supervisory Management Division, who will sign to confirm and return back to businesses.