To promote Vietnamese top brand names in the process of integrating into the World Trade Organization (WTO) and create opportunities for enterprises of Viet Nam and Southeast Asian countries to introduce their brand names and find partners, the Investment and Trade Promotion Center (ITPC) and the Vietnamese High-Quality Goods Club will jointly hold Viet Nam - ASEAN Brand Expo.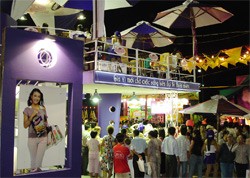 The Vietnamese High-Quality Goods Fair gives good chances for Vietnamese enterprises to promote their products (Photo: U Phuong)
The expo will attract 100 Vietnamese enterprises of high-quality goods, enterprises of leading products, 20 key brand names, international products manufactured in Viet Nam, enterprises and trade promotion organizations of Southeast Asian countries.

During the expo, there will be meetings among enterprises and major distributors in Viet Nam, Viet Nam's media. Also, the "Impressive Brand Name" award will be presented to impressive products, voted by consumers at the expo.
The expo has been promoted in other countries through the Viet Nam House in Singapore. In addition, organizers invited enterprises directly at fairs in Thailand, Malaysia and Indonesia.
The show will take place at the Ho Chi Minh City International Exhibition and Convention Center on Sep.1-5, 2006.